All About Skimmers
Nov. 23, 2010: Crooks Rock Audio-based ATM Skimmers – The European ATM Security Team (EAST) found that 11 of the 16 European nations covered in the report experienced increases in skimming attacks last year. EAST noted that in at least one country, anti-skimming devices have been stolen and converted into skimmers, complete with micro cameras used to steal PINs. EAST said it also discovered that a new type of analogue skimming device — using audio technology — has been reported by five countries, two of them "major ATM deployers" (defined as having more than 40,000 ATMs).
Dec. 13, 2010: Why GSM-based ATM Skimmers Rule …So, after locating an apparently reliable skimmer seller on an exclusive hacker forum, I chatted him up on instant message and asked for the sales pitch. This GSM skimmer vendor offered a first-hand account of why these cell-phone equipped fraud devices are safer and more efficient than less sophisticated models — that is, for the buyer at least (I have edited his sales pitch only slightly for readability and flow).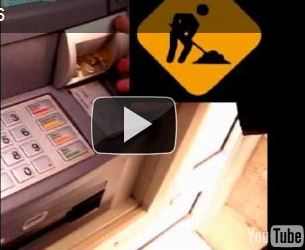 Jan. 17, 2011: ATM Skimmers, Up Close…I wasn't sure whether I could take this person seriously, but his ratings on the forum — in which buyers and sellers leave feedback for each other based on positive or negative experiences from previous transactions — were good enough that I figured he must be one of the few people on this particular forum actually selling ATM skimmers, as opposed to just lurking there to scam fellow scammers.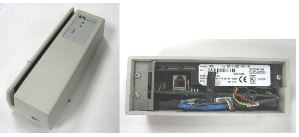 Jan. 31, 2011: ATM Skimmers That Never Touch the ATM….Media attention to crimes involving ATM skimmers may make consumers more likely to identify compromised cash machines, which involve cleverly disguised theft devices that sometimes appear off-color or out-of-place. Yet, many of today's skimmer scams can swipe your card details and personal identification number while leaving the ATM itself completely untouched, making them far more difficult to spot.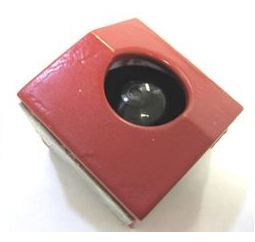 Feb. 16, 2011: Having a Ball With ATM Skimmers …On February 8, 2009, a customer at an ATM at a Bank of America branch in Sun Valley, Calif., spotted something that didn't look quite right about the machine: A silver, plexiglass device had been attached to the ATM's card acceptance slot, in a bid to steal card data from unsuspecting ATM users. But the customer and the bank's employees initially overlooked a secondary fraud device that the unknown thief had left at the scene: A sophisticated, battery operated and motion activated camera designed to record victims entering their personal identification numbers at the ATM.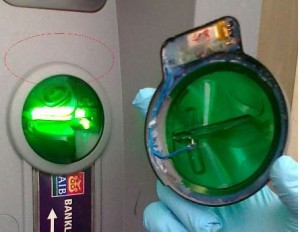 Mar. 11, 2011: Green Skimmers Skimming Green…To combat an increase in ATM fraud from skimmer devices, cash machine makers have been outfitting ATMs with a variety of anti-skimming technologies. In many cases, these anti-skimming tools take the shape of green or blue semi-transparent plastic casings that protrude from the card acceptance slot to prevent would-be thieves from easily attaching skimmers. But in a surprising number of incidents, skimmer scammers have simply crafted their creations to look exactly like the anti-skimming devices.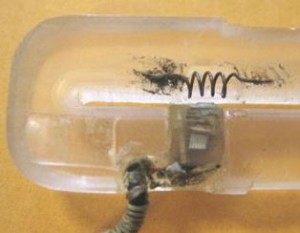 April 10, 2001: ATM Skimmers: Hacking the Cash Machine…Most of the ATM skimmers I've profiled in this blog are comprised of parts designed to mimic and to fit on top of existing cash machine components, such as card acceptance slots or PIN pads. But sometimes, skimmer thieves find success by swapping out ATM parts with compromised look-alikes.
May 18, 2011: Point-of-Sale Skimmers: Robbed at the Register …Michaels Stores said this month that it had replaced more than 7,200 credit card terminals from store registers nationwide, after discovering that thieves had somehow modified or replaced machines to include point of sale (POS) technology capable of siphoning customer payment card data and PINs. The specific device used by the criminal intruders has not been made public. But many devices and services are sold on the criminal underground to facilitate the surprisingly common fraud.
Sept. 20, 2011: Gang Used 3D Printers for ATM Skimmers …An ATM skimmer gang stole more than $400,000 using skimming devices built with the help of high-tech 3D printers, federal prosecutors say. Apparently, word is spreading in the cybercrime underworld that 3D printers produce flawless skimmer devices with exacting precision. In June, a federal court indicted four men from South Texas (PDF) whom authorities say had reinvested the profits from skimming scams to purchase a 3D printer.