Adobe Systems Inc. said today the next release of its free PDF Reader application will include new "sandbox" technology aimed at blocking the exploitation of previously unidentified security holes in its software.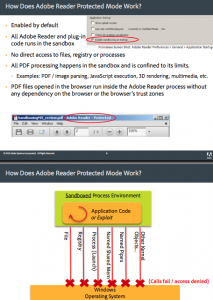 Sandboxing is an established security mechanism that runs the targeted application in a confined environment that blocks specific actions by that app, such as installing or deleting files, or modifying system information. Adobe said that in developing the sandbox technology, it relied on experts from Microsoft and Google (the latter already has incorporated sandboxing into its Chrome Web browser).
"The idea is to run Reader in a lower-privilege mode so that even if an attacker finds an exploit or vulnerability in Reader, it runs in lower rights mode, which should block the installation of [malware], deleting things on the system, or tampering with the [Windows] registry," said Brad Arkin, director of product security and privacy at Adobe.
Even if only somewhat effective, the new protections would be a major advancement for one of the computing world's most ubiquitous and oft-targeted software applications. The company is constantly shipping updates to block new attacks: Less than a month ago, Adobe rushed out a patch to plug vulnerabilities that hackers were using to break into vulnerable machines. Security vendor McAfee found that roughly 28 percent of all known software exploits in the first quarter of 2010 targeted Adobe Reader vulnerabilities. According to anti-virus maker F-Secure, Reader is now the most-exploited application for Windows.