A recent chat with an individual who was almost tricked into helping organized criminals launder thousands of dollars stolen through e-banking fraud introduced me to one of the most clever and convincing money mule recruitment Web sites I've ever encountered. Through the use of images stolen from legitimate Web sites and well-placed video and interactive content, this bogus work-at-home job site may become a model for mule recruitment scams to come.
Money mules are people willingly or unwittingly lured into helping crooks launder stolen funds, usually through work-at-home job scams. Reshipping mules are sent goods and asked to reship them to addresses abroad, or are sent money and asked to purchase goods and then ship them overseas. In both jobs, the mule usually earns a commission for his or her work (either fixed percentage of the transfer or permission to keep one of the purchased goods), but both are usually cut loose before they see their promised paychecks.
A mule who spoke with KrebsOnSecurity.com on condition of anonymity said he was recruited as a financial agent by Lydon Online, which communicated with him via Web-based e-mails (see image directly below), as well as via cell phone text messages.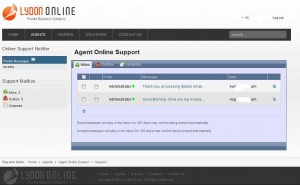 The mule, whom we'll call "Jeremy," ignored instructions to supply his bank account information in preparation for receiving deposits from Lydon Online. That's because shortly after signing up with Lydon, Jeremy learned that another company which also had hired him for a work-at-home job as a financial agent had tried to send him nearly $10,000 stolen from a Pennsylvania dental practice that was robbed of many times that amount last month (the dental office also agreed to speak to me on the condition of anonymity).
You need a valid set of credentials to see some of the more interesting sections of mycareerjob.net, but the site's designers did a superb job making it look legitimate. Included on nearly every page are pictures of fellow "employees," and exemplary trainees, which are really just photos lifted from dozens of random Web sites. Among my favorite areas of the site is the Agent Awards section, which includes a couple of photos swiped from Travel Weekly.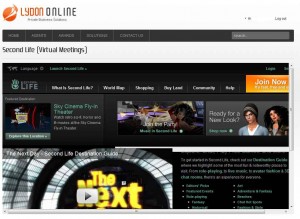 In a section touting the beauty of working remotely via the Internet, mycareerjob.net sings the praises of an alternate reality game called Second Life, promising recruits that they will soon have the opportunity to interact with clients via Second Life.
The part of the site that really takes the cake is the interactive "agent training" video, which uses a computerized voice and images from the cult hacker film The Matrix to walk new recruits through the daily routine of a reshipping mule. Click on the embedded YouTube.com video below to watch the training message. A transcript of the instructions contained in the video is available at this link.