Credit and debit card accounts stolen in a recent data breach at retail giant Target have been flooding underground black markets in recent weeks, selling in batches of one million cards and going for anywhere from $20 to more than $100 per card, KrebsOnSecurity has learned.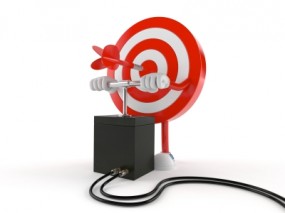 Prior to breaking the story of the Target breach on Wednesday, Dec. 18, I spoke with a fraud analyst at a major bank who said his team had independently confirmed that Target had been breached after buying a huge chunk of the bank's card accounts from a well-known "card shop" — an online store advertised in cybercrime forums as a place where thieves can reliably buy stolen credit and debit cards.
There are literally hundreds of these shady stores selling stolen credit and debit cards from virtually every bank and country. But this store has earned a special reputation for selling quality "dumps," data stolen from the magnetic stripe on the backs of credit and debit cards. Armed with that information, thieves can effectively clone the cards and use them in stores. If the dumps are from debit cards and the thieves also have access to the PINs for those cards, they can use the cloned cards at ATMs to pull cash out of the victim's bank account.
At least two sources at major banks said they'd heard from the credit card companies: More than a million of their cards were thought to have been compromised in the Target breach. One of those institutions noticed that one card shop in particular had recently alerted its loyal customers about a huge new batch of more than a million quality dumps that had been added to the online store. Suspecting that the advertised cache of new dumps were actually stolen in the Target breach, fraud investigators with the bank browsed this card shop's wares and effectively bought back hundreds of the bank's own cards.
When the bank examined the common point of purchase among all the dumps it had bought from the shady card shop, it found that all of them had been used in Target stores nationwide between Nov. 27 and Dec. 15. Subsequent buys of new cards added to that same shop returned the same result.
On Dec. 19, Target would confirm that crooks had stolen 40 million debit and credit cards from stores nationwide in a breach that extended from Nov. 27 to Dec. 15. Not long after that announcement, I pinged a source at a small community bank in New England to see whether his institution had been notified by Visa or MasterCard about specific cards that were potentially compromised in the Target breach.
This institution has issued a grand total of more than 120,000 debit and credit cards to its customers, but my source told me the tiny bank had not yet heard anything from the card associations about specific cards that might have been compromised as a result of the Target breach. My source was anxious to determine how many of the bank's cards were most at risk of being used for fraud, and how many should be proactively canceled and re-issued to customers. The bank wasn't exactly chomping at the bit to re-issue the cards; that process costs around $3 to $5 per card, but more importantly it didn't want to unnecessarily re-issue cards at a time when many of its customers would be racing around to buy last-minute Christmas gifts and traveling for the holidays.
On the other hand, this bank had identified nearly 6,000 customer cards — almost 5 percent of all cards issued to customers — that had been used at Target stores nationwide during the breach window described by the retailer.
"Nobody has notified us," my source said. "Law enforcement hasn't said anything, our statewide banking associations haven't sent anything out…nothing. Our senior legal counsel today was asking me if we have positive confirmation from the card associations about affected cards, but so far we haven't gotten anything."
When I mentioned that a big bank I'd spoken with had found a 100 percent overlap with the Target breach window after purchasing its available cards off a particular black market card shop called rescator[dot]la, my source at the small bank asked would I be willing to advise his fraud team on how to do the same?
CARD SHOPPING
Ultimately, I agreed to help in exchange for permission to write about the bank's experience without actually naming the institution. The first step in finding any of the bank's cards for sale was to browse the card shop's remarkably efficient and customer-friendly Web site and search for the bank's "BINs"; the Bank Identification Number is merely the first six digits of a debit or credit card, and each bank has its own unique BIN or multiple BINs.
A quick search on the card shop for the bank's BINs revealed nearly 100 of its customers's cards for sale, a mix of MasterCard dumps ranging in price from $26.60 to $44.80 apiece. As one can imagine, this store doesn't let customers pay for purchases with credit cards; rather, customers can "add money" to their accounts using a variety of irreversible payment mechanisms, including virtual currencies like Bitcoin, Litecoin, WebMoney and PerfectMoney, as well as the more traditional wire transfers via Western Union and MoneyGram.
With my source's newly registered account funded via wire transfer to the tune of USD $450, it was time to go shopping. My source wasn't prepared to buy up all of the available cards that match his institution's BINs, so he opted to start with a batch of 20 or so of the more recently-issued cards for sale.
Like other card shops, this store allows customers to search for available cards using a number of qualifications, including BIN; dozens of card types (MasterCard, Visa, et. al.); expiration date; track type; country; and the name of the financial institution that issued the card.
A key feature of this particular dumps shop is that each card is assigned to a particular "base." This term is underground slang that refers to an arbitrary code word chosen to describe all of the cards stolen from a specific merchant. In this case, my source at the big bank had said all of the cards his team purchased from this card shop that matched Target's N0v. 27 – Dec. 15 breach window bore the base name Tortuga, which is Spanish for "tortoise" or "turtle."
Indeed, shortly after the Target breach began, the proprietor of this card shop — a miscreant nicknamed "Rescator" and a key figure on a Russian-language cybercrime forum known as "Lampeduza" — was advertising a brand new base of one million cards, called Tortuga.
Rescator even created a graphical logo in the Lampeduza forum's typeface and style, advertising "valid 100% rate," and offering a money-back guarantee on any cards from this "fresh" base that were found to have been canceled by the card issuer immediately after purchase. In addition, sometime in December, this shop ceased selling cards from other bases aside from those from the Tortuga base. As the month wore on, new Tortuga bases would be added to shop, with each base incrementing by one with almost every passing day (e.g., Tortuga1, Tortuga2, Tortuga3, etc.).
Another fascinating feature of this card shop is that it appears to include the ZIP code and city of the store from which the cards were stolen. One fraud expert I spoke with who asked to remain anonymous said this information is included to help fraudsters purchasing the dumps make same-state purchases, thus avoiding any knee-jerk fraud defenses in which a financial institution might block transactions out-of-state from a known compromised card.
The New England bank decided to purchase 20 of its own cards from this shop, cards from Tortuga bases 6-9, and Tortuga 14 and 15. The store's "shopping cart" offers the ability to check the validity of each purchased card. Any cards that are checked and found to be invalid automatically get refunded. A check of the cards revealed that just one of the 20 had already been canceled.
The bank quickly ran a fraud and common point-of-purchase analyses on each of the 19 remaining cards. Sure enough, the bank's database showed that all had been used by customers to make purchases at Target stores around the country between Nov. 29 and Dec. 15.
"Some of these already have confirmed fraud on them, and a few of them were actually just issued recently and have only been used at Target," my source told me. Incredibly, a number of the cards were flagged for fraud after they were used to make unauthorized purchases at big box retailers, including — wait for it — Target. My source explained that crooks often use stolen dumps to purchase high-priced items such as Xbox consoles and high-dollar amount gift cards, goods that can be fenced, auctioned or otherwise offloaded quickly and easily for cash.
My source said his employer isn't yet sure which course of action it will take, but that it's likely the bank will re-issue some or all of the 5,300+ cards affected by the Target breach — most likely sometime after Dec. 25.
The bank is unconcerned that its cards compromised in the Target breach might be used for online shopping fraud because the stolen data does not include the CVV2 — the three digit security code printed on the backs of customer cards. Most online merchants require customers to supply the CVV2 as proof that they posses the legitimate, physical card for the corresponding account that is being used to fund the online purchase.
Update, 5:20 p.m. ET: In a message to consumers, Target CEO Gregg Steinhafel said Target would be offering free credit monitoring for affected customers. Not sure how credit monitoring helps with this specific breach, but at any rate here's the rest of his statement:

"Yesterday we shared that there was unauthorized access to payment card data at our U.S. stores. The issue has been identified and eliminated. We recognize this has been confusing and disruptive during an already busy holiday season. Our guests' trust is our top priority at Target and we are committed to making this right.

We want our guests to understand that just because they shopped at Target during the impacted time frame, it doesn't mean they are victims of fraud. In fact, in other similar situations, there are typically low levels of actual fraud. Most importantly, we want to reassure guests that they will not be held financially responsible for any credit and debit card fraud. And to provide guests with extra assurance, we will be offering free credit monitoring services. We will be in touch with those impacted by this issue soon on how and where to access the service.

We understand it's been difficult for some guests to reach us via our website and call center. We apologize and want you to understand that we are experiencing unprecedented call volume. Our Target teams are working continuously to build capacity and meet our guests' needs.

We take this crime seriously. It was a crime against Target, our team members, and most importantly, our guests. We're in this together, and in that spirit, we are extending a 10% discount – the same amount our team members receive – to guests who shop in U.S. stores on Dec. 21 and 22. Again, we recognize this issue has been confusing and disruptive during an already busy holiday season. We want to emphasize that the issue has been addressed and let guests know they can shop with confidence at their local Target stores."
[EPSB]
Have you seen:
Non-US Cards Used At Target Fetch Premium"…An underground service that is selling millions of credit and debit card accounts stolen in a recent data breach at retail giant Target has stocked its virtual shelves with a new product: Hundreds of thousands of cards issued by non-U.S. banks that were used at Target across the United States during the retailer's 19-day data breach. It's not clear how quickly the non-U.S. cards are selling, but they seem to be fetching a much higher price than those issued by U.S. banks.
[/EPSB]