Multiple banks say they have identified a pattern of credit and debit card fraud suggesting that several Staples Inc. office supply locations in the Northeastern United States are currently dealing with a data breach. Staples says it is investigating "a potential issue" and has contacted law enforcement.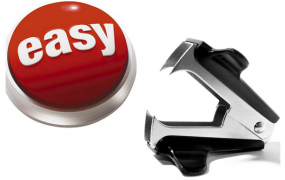 According to more than a half-dozen sources at banks operating on the East Coast, it appears likely that fraudsters have succeeded in stealing customer card data from some subset of Staples locations, including seven Staples stores in Pennsylvania, at least three in New York City, and another in New Jersey.
Framingham, Mass.-based Staples has more than 1,800 stores nationwide, but so far the banks contacted by this reporter have traced a pattern of fraudulent transactions on a group of cards that had all previously been used at a small number of Staples locations in the Northeast.
The fraudulent charges occurred at other (non-Staples) businesses, such as supermarkets and other big-box retailers. This suggests that the cash registers in at least some Staples locations may have fallen victim to card-stealing malware that lets thieves create counterfeit copies of cards that customers swipe at compromised payment terminals.
Asked about the banks' claims, Staples's Senior Public Relations Manager Mark Cautela confirmed that Staples is in the process of investigating a "potential issue involving credit card data and has contacted law enforcement."
"We take the protection of customer information very seriously, and are working to resolve the situation," Cautela said. "If Staples discovers an issue, it is important to note that customers are not responsible for any fraudulent activity on their credit cards that is reported on [in] a timely basis."