I recall the first time I encountered an armed security guard at a local store. I remember feeling a bit concerned about the safety of the place because I made a snap (and correct) assumption that it must have been robbed recently. I get a similar feeling each time I fuel up my car at a filling station and notice the pump and credit card reader festooned with security tape that conjures up images of police tape around a crime scene.
It's nice to know I'm not the only one who feels this way. A reader named Tyler recently shared the above image, along with his experience.
"I had my first encounter with tape across a gas station's card reader the other day," Tyler said. "I must say it led me to believe there was some sort of skimming device installed, as I have never seen this before. Further inspection showed it was actually a real attempt by the gas station to let consumers know if the device has been tampered with."
Tyler wanted to know what would prevent a scammer from simply removing the tape from one reader and placing it back on top of a compromised reader? Or, since most people probably wouldn't know to look for the presence of tape around the card reader, how about just placing the skimming device right on top? I wondered that as well.
The tape carries the bold yet misguided assurance, "securing your identity." However, I'm guessing this security device is primarily meant to serve as a signal to gas station attendants when and if someone has monkeyed with a pump card reader.
The tape on the reader is intended to protect against pump reader skimmers, like the one pictured below, which sells in underground forums for upwards of USD $2,000 and is designed to be fit directly over top of the readers they have at many ESSO/Exxon fuel pumps.
Of course, security tape wrapped around a card reader at a gas pump isn't going to stop most pump skimming attacks, which start when someone with a master key for the pump opens it up and fiddles with the guts of the machine. The crooks figured out a long time ago that only a handful of master keys are needed to open the majority of the gas pumps in use today. So, rather than retrofit each one of these pumps with a more custom and secure locking mechanism, most stations just put security tape on the pump door.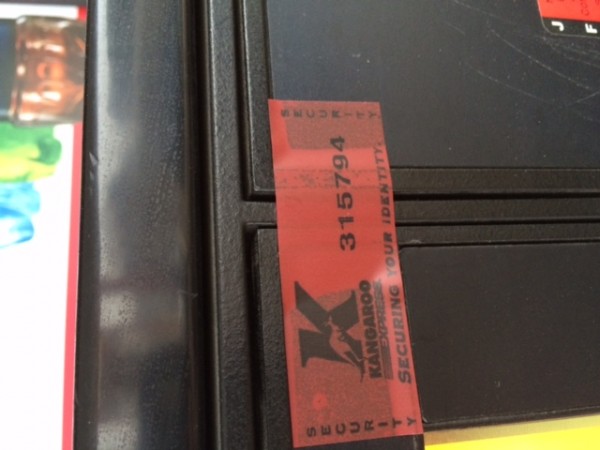 I don't worry too much about gas pump skimmers; I always use my credit card, and know that I am not liable for unauthorized charges on my card as long as I report it to my bank or credit card company. But I would urge readers to avoid paying at the pump using a debit card. Having your checking account emptied of cash while your bank sorts out the situation can be a huge hassle and create secondary problems (bounced checks, for instance).