Earlier this month, the administrator of the cybercrime forum Breached received a cease-and-desist letter from a cybersecurity firm. The missive alleged that an auction on the site for data stolen from 10 million customers of Mexico's second-largest bank was fake news and harming the bank's reputation. The administrator responded to this empty threat by purchasing the stolen banking data and leaking it on the forum for everyone to download.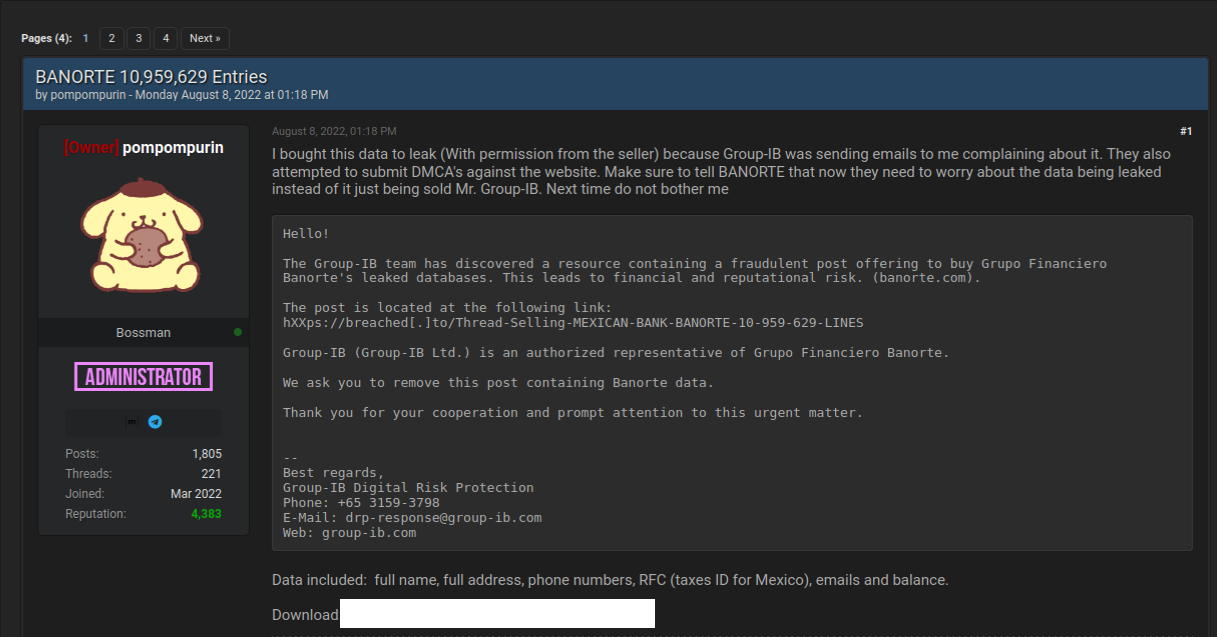 On August 3, 2022, someone using the alias "Holistic-K1ller" posted on Breached a thread selling data allegedly stolen from Grupo Financiero Banorte, Mexico's second-biggest financial institution by total loans. Holistic-K1ller said the database included the full names, addresses, phone numbers, Mexican tax IDs (RFC), email addresses and balances on more than 10 million citizens.
There was no reason to believe Holistic-K1ller had fabricated their breach claim. This identity has been highly active on Breached and its predecessor RaidForums for more than two years, mostly selling databases from hacked Mexican entities. Last month, they sold customer information on 36 million customers of the Mexican phone company Telcel; in March, they sold 33,000 images of Mexican IDs — with the front picture and a selfie of each citizen. That same month, they also sold data on 1.4 million customers of Mexican lending platform Yotepresto.
But this history was either overlooked or ignored by Group-IB, the Singapore-based cybersecurity firm apparently hired by Banorte to help respond to the data breach.
"The Group-IB team has discovered a resource containing a fraudulent post offering to buy Grupo Financiero Banorte's leaked databases," reads a letter the Breach administrator said they received from Group-IB. "We ask you to remove this post containing Banorte data. Thank you for your cooperation and prompt attention to this urgent matter."
The administrator of Breached is "Pompompurin," the same individual who alerted this author in November 2021 to a glaring security hole in a U.S. Justice Department website that was used to spoof security alerts from the FBI. In a post to Breached on Aug. 8, Pompompurin said they bought the Banorte database from Holistic-K1ller's sales thread because Group-IB was sending emails complaining about it.
"They also attempted to submit DMCA's against the website," Pompompurin wrote, referring to legal takedown requests under the Digital Millennium Copyright Act. "Make sure to tell Banorte that now they need to worry about the data being leaked instead of just being sold."
Group-IB CEO Dmitriy Volkov said the company has seen some success in the past asking hackers to remove or take down certain information, but that making such requests is not a typical response for the security firm.
"It is not a common practice to send takedown notifications to such forums demanding that such content be removed," Volkov said. "But these abuse letters are legally binding, which helps build a foundation for further steps taken by law enforcement agencies. Actions contrary to international rules in the regulated space of the Internet only lead to more severe crimes, which — as we know from the case of Raidforums — are successfully investigated and stopped by law enforcement."
Banorte did not respond to requests for comment. But in a brief written statement picked up on Twitter, Banorte said there was no breach involving their infrastructure, and the data being sold is old.
"There has been no violation of our platforms and technological infrastructure," Banorte said. "The set of information referred to is inaccurate and outdated, and does not put our users and customers at risk."