Julius "Zeekill" Kivimäki, a 25-year-old Finnish man charged with extorting a local online psychotherapy practice and leaking therapy notes for more than 22,000 patients online, was arrested this week in France. A notorious hacker convicted of perpetrating tens of thousands of cybercrimes, Kivimäki had been in hiding since October 2022, when he failed to show up in court and Finland issued an international warrant for his arrest.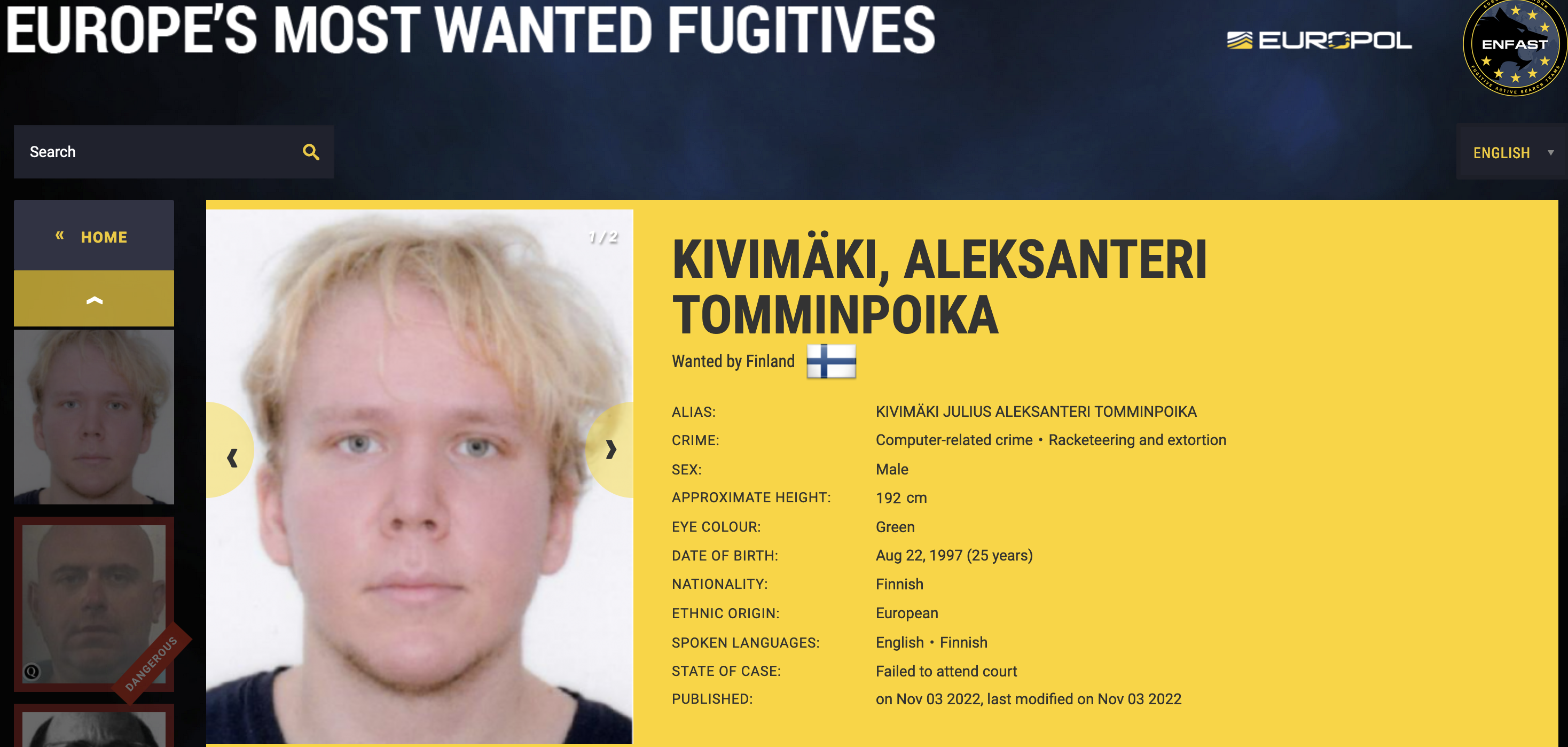 In late October 2022, Kivimäki was charged (and "arrested in absentia," according to the Finns) with attempting to extort money from the Vastaamo Psychotherapy Center. In that breach, which occurred in October 2020, a hacker using the handle "Ransom Man" threatened to publish patient psychotherapy notes if Vastaamo did not pay a six-figure ransom demand.
Vastaamo refused, so Ransom Man shifted to extorting individual patients — sending them targeted emails threatening to publish their therapy notes unless paid a 500-euro ransom.
When Ransom Man found little success extorting patients directly, they uploaded to the dark web a large compressed file containing all of the stolen Vastaamo patient records.
But as documented by KrebsOnSecurity in November 2022, security experts soon discovered Ransom Man had mistakenly included an entire copy of their home folder, where investigators found many clues pointing to Kivimäki's involvement. From that story:
"Among those who grabbed a copy of the database was Antti Kurittu, a team lead at Nixu Corporation and a former criminal investigator. In 2013, Kurittu worked on an investigation involving Kivimäki's use of the Zbot botnet, among other activities Kivimäki engaged in as a member of the hacker group Hack the Planet (HTP)."
"It was a huge opsec [operational security] fail, because they had a lot of stuff in there — including the user's private SSH folder, and a lot of known hosts that we could take a very good look at," Kurittu told KrebsOnSecurity, declining to discuss specifics of the evidence investigators seized. "There were also other projects and databases."
According to the French news site actu.fr, Kivimäki was arrested around 7 a.m. on Feb. 3, after authorities in Courbevoie responded to a domestic violence report. Kivimäki had been out earlier with a woman at a local nightclub, and later the two returned to her home but reportedly got into a heated argument.
Police responding to the scene were admitted by another woman — possibly a roommate — and found the man inside still sleeping off a long night. When they roused him and asked for identification, the 6′ 3″ blonde, green-eyed man presented an ID that stated he was of Romanian nationality.
The French police were doubtful. After consulting records on most-wanted criminals, they quickly identified the man as Kivimäki and took him into custody. Continue reading →