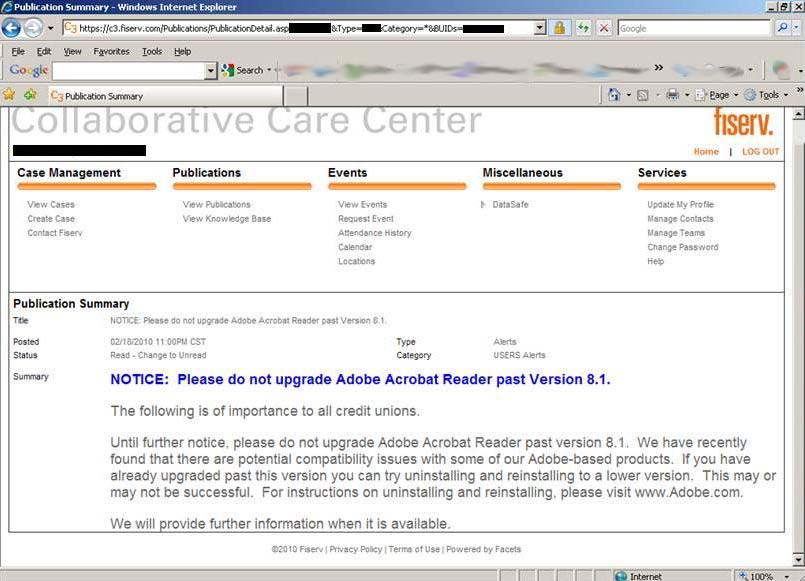 One of the nation's largest providers of money-transfer and online banking services to credit unions and other financial institutions is urging customers not to apply the latest security updates for Adobe Reader, the very application most targeted by criminal hackers and malicious software.
At issue is a non-public advisory issued by Fiserv, a Fortune 500 company that provides bank transaction processing services and software to more than 16,000 clients worldwide.
A reader who works in security for a mid-sized credit union shared with me a notice posted prominently to the "collaborative care" portion of Fiserv's site, a section dedicated to security and IT managers at partner financial institutions.
In the notice, dated Feb. 16, 2010, Fiserv instructed its customers to avoid the latest Adobe Reader updates, apparently in favor of one that was released two years ago:
"NOTICE: Please do not upgrade Adobe Acrobat Reader past Version 8.1."
The notice continues:
"The following is of importance to all credit unions.

Until further notice, please do not upgrade Adobe Reader past version 8.1. We have recently found that there are potential compatibility issues with some of our Adobe-based products. If you have already upgraded past this version you can try uninstalling to a lower version. This may or may not be successful. For instructions on uninstalling, please visit www.Adobe.com.

We will provide you with further information when it is available."
I have requested more information from Fiserv about what prompted this advisory, and will update this post when/if they respond.
Adobe 8.1 was first released in October 2007. But even if we give Fiserv the benefit of the doubt and assume that they really meant to say "Don't migrate your systems past the latest 8.1 version — Adobe Reader 8.1.7 (released in October 2009) that would still leave financial institutions dangerously exposed to the Reader flaw that criminals are very actively exploiting to install data-stealing software, via spam and hacked or malicious Web sites.
According to a report issued last month by Web security firm ScanSafe, 80 percent of the Web-based attacks from malicious and hacked Web sites targeted Adobe Reader vulnerabilities in the last three months of 2009. Security firm F-Secure also has noted that Adobe Reader vulnerabilities by far are the most popular for use in targeted e-mail attacks.
This kind of advisory may seem shocking, but it's incredibly common, said Didier Stevens, an IT security researcher who has done some extensive research on Adobe vulnerabilities. As Stevens noted, many application providers or companies will urge users to remain on outdated and insecure software platforms because upgrading may break functionality in custom software. Stevens said Fiserv's advisory to customers is probably related to a similar custom-built application.
"I can imagine that in their software they are using some components of Adobe, for example, a component to display a PDF inside of a financial application, and they just haven't upgraded that application yet," Stevens said.
Indeed, just last month I wrote about opening up a new account at a local bank and noticing that the branch manager was still browsing the Web with Internet Explorer 6, just days after news surfaced that a zero-day vulnerability in IE6 was used in targeted attacks against Google, Adobe and a host of other Silicon Valley companies recently. For its part, Google said it would no longer support IE6 in its applications.
Update, March 9, 10:48 a.m.: Fiserv responded to this story with the following statement, sent via e-mail:
"We researched the client advisory mentioned in your posting.  We appreciate your attention to this matter, as the advisory did not effectively explain our advice, nor was it the right approach to the underlying issue of Adobe compatibility.
The advisory was not directed or available to all of our clients, but rather to clients of a single solution within one individual product line.   The advisory had been viewed by fewer than three dozen individuals at the time it was removed.  We are working hard to resolve the Adobe compatibility issue, and to improve the rigor of our content management on the client collaboration site where the advisory was posted."