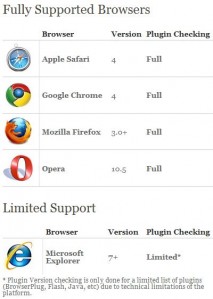 Mozilla's Plugin Check Web site, which inspects Firefox browsers for outdated and insecure plugins, now checks other browsers — including Apple's Safari, Google's Chrome, Opera, and (to a far lesser extent) even Internet Explorer.
The Plugin Check site looks for a range of outdated plugins, and now works on Safari 4, Google Chrome  4 and up, Mozilla Firefox 3.0 and up, and Opera 10.5. This is a nice idea, and it works to some degree, but the page couldn't locate version information for about seven of ten plugins I currently have in Firefox.
Similarly it detected version information for three out of nine of my plugins on my Macbook Pro's Safari installation, although it helpfully informed me of an outdated Flash player on my Mac (doh!). It also detected version numbers for just two of 11 plugins apparently installed in my Google Chrome browser.
Mozilla's Plugin Check also partially supports IE7 and IE8, although when I visited it with IE, I received an interesting result. I went there with a virgin install of IE8 that didn't have any third party plugins installed. But rather than tell me I was secure  because it could detect no plugins at all, Mozilla's site actually prompted me to install Adobe's Flash Player (screen shot below), one of the most-attacked browser plugins of all.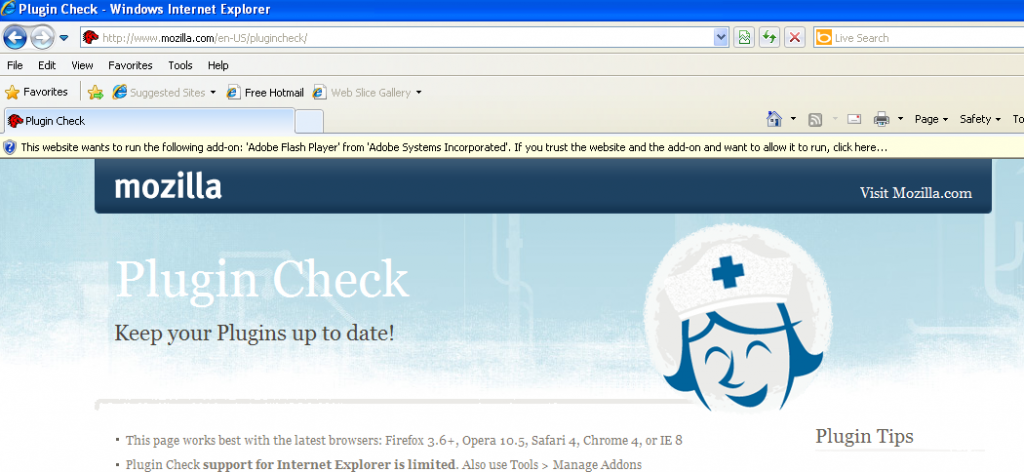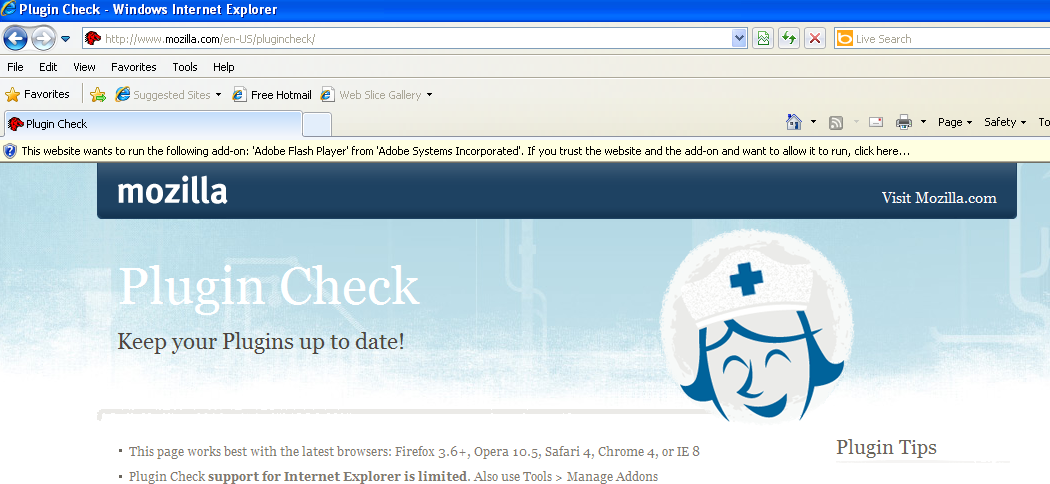 It would be great to see this technology start to detect more plugins. In the meantime, if you're running Windows and want help keeping up to date with the latest patches, I'd recommend Secunia's Personal Software Inspector, a program that periodically reminds you about insecure programs and plugins, and even includes links to download the latest patches.