Oracle Corp. released a critical update to plug at least 20 security holes in versions of its ubiquitous Java software. Nearly all of the Java vulnerabilities can be exploited remotely to compromise vulnerable systems with little or no help from users.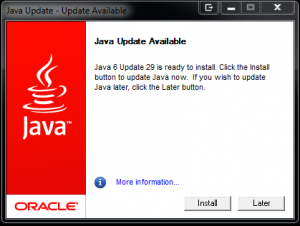 If you use Java, take some time to update the program now. According to a report released this month by Microsoft, the most commonly observed exploits in the first half of 2011 were those targeting Java flaws. The report also notes that Java exploits were responsible for between one-third and one-half of all exploits observed in each of the four most recent quarters.
Methods for exploiting one of the flaws fixed by this update were detailed at a recent security conference in Buenos Aires, where researchers demonstrated a method for intercepting encrypted SSL and TLS traffic.
Don't know if you have Java? Check out this link, and then click the "Do I have Java?" link below the big red "Free Java Download" button. A majority of folks who have Java installed will have some update of Java 6; this latest patch brings Java 6 to Update 29. Java also has released a major revision to Java 7 (the vulnerabilities fixed in Java 6 Update 29 are available in Java 7 Update 1). It's not clear whether Java 7 is more for regular users or for developers at this point, because the Free Java Download link at java.com still takes users to Version 6 Update 29.
Microsoft Windows users can update Java from the Java icon in the Windows Control Panel, and then clicking the "Update Now" button on the Update tab.
I've urged readers who have no use for Java to get rid of the program, but there is another way to keep it around while reducing the likelihood that the software will be targeted by malicious Web sites: unplug it from the browser. In Mozilla, Java can be toggled on or off via the plugins menu of the Add-ons page. In Internet Explorer, Java can be disabled via the "Manage Add-ons" option.
Finally, Windows users may find more than one Java version in the Add/Remove Programs list in the Control Panel. Older Java 6 versions can be safely removed after updating. The updater in Java 6 was long ago tweaked to remove older versions of Java before installing an update, but if you've already upgraded to Java 7, be aware that it does not remove Java 6 versions.