Oracle Corp. today released an update for its Java SE software that fixes at least 42 security flaws in the widely-installed program and associated browser plugin. The Java update also introduces new features designed to alert users about the security risks of running certain Java content.
Java 7 Update 21 contains 42 new security fixes for Oracle Java SE. A majority of these flaws are browse-to–a-hacked-site-and-get-infected vulnerabilities. According to Oracle, "39 of these vulnerabilities may be remotely exploitable without authentication, i.e., may be exploited over a network without the need for a username and password" [emphasis mine].
There does not appear to be any update for Java 6. Oracle was to stop shipping security fixes for Java 6 in February, but it broke from that schedule last month when it shipped an emergency update for Java 6 to fix a flaw that was being used in active attacks. When I updated a machine running the latest Java 6 version (Update 43) it prompted me to install Java 7 Update 21. Update, 5:42 p.m. ET: Twitter follower @DonaldOJDK notes that Java 6 Update 45 is indeed available here.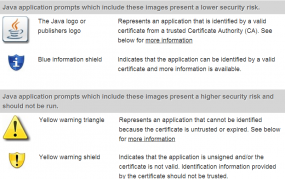 Java 7 Update 21 also introduces some new security warnings and message prompts for users who keep the program plugged into a Web browser (on installation and updating, Java adds itself as an active browser plugin). Oracle said the messages that will be presented depend upon different risk factors, such as using old versions of Java or running applet code that is not signed from a trusted Certificate Authority.
Apps that present a lower risk display a simple informational message. This includes an option to prevent showing similar messages for apps from the same publisher in the future. Java applications considered to be higher risk — such as those that use an untrusted or expired certificate — will be accompanied by a prompt with a yellow exclamation point in a yellow warning triangle.
As Ars Technica writes, Oracle introduced a similar dialog message scheme late last year, but as previously reported by Ars, it doesn't check the validity of application certificates. It's a shortcoming that makes it easy for attackers to bypass the protection. That's because it presents certificates as trustworthy even when they've been reported as stolen and added to publicly available revocation databases. The failure of Java to check certificate revocation lists came to light last month after Java gave the green light to a malicious app even though the digital certificate signing it had been revoked by the company that owned it.
I've long urged end users to uninstall Java unless they have a specific use for it (this advice does not scale for businesses, which often have complex custom applications that rely on Java). This widely installed and powerful program is riddled with security holes, and is a favorite target of malware writers and miscreants. Rather than ask users to discern the safety of applications using yellow triangles, blue shields, green clovers or orange stars, I'll keep telling users to get rid of Java entirely.
If you do need it, unplug it from the browser unless and until you need it. Java 7 lets users disable Java content in web browsers through the Java control panel applet. Alternatively, consider a dual-browser approach, unplugging Java from the browser you use for everyday surfing, and leaving it plugged in to a second browser that you only use for sites that require Java.
There are a couple of ways to find out if you have Java installed and what version may be running.  Windows users can click Start, then Run, then type "cmd" without the quotes. At the command prompt, type "java -version" (again, no quotes). Users also can visit Java.com and click the "Do I have Java?" link on the homepage. Updates also should be available via the Java Control Panel or from Java.com. Mac OS X 10.6 (Snow Leopard) users who have Java should check Software Update for any available updates. Mac OS X 10.7 (Lion) and 10.8 (Mountain Lion) users can grab the updated version of Java from Java.com.