Adobe, Microsoft and Oracle today each issued security updates to fix serious vulnerabilities in their products. Adobe released patches for AIR, Acrobat, Flash and Reader, while Microsoft pushed out fixes to shore up at least a half dozen security weaknesses in Windows and Office. Oracle released an update for Java that fixes at least three dozen security holes in the widely-used program.
All of the vulnerabilities that Microsoft fixed this month earned "important" ratings; not quite as dire as those labeled "critical," which involve flaws so dangerous that they can be exploited by bad guys or malware to break into systems with no user interaction. Nevertheless, flaws marked "important" can be quite dangerous, particularly when used in tandem with other attack techniques.
By way of illustration, this month's MS14-002 patch addresses an important zero-day flaw that was first found to be exploited in targeted attacks late last year. In one version of this attack, documented quite nicely in this fascinating yet somewhat technical writeup from Trustwave Spiderlabs, attackers used this Windows flaw in combination with a bug in Adobe Reader. According to Trustwave, the bad guys in that attack included the Windows flaw as a means of bypassing Adobe Reader's security sandbox, a technology designed ensure that any malicious code embedded in documents only runs under limited privileges (i.e., isn't allowed to invoke other programs or alter core system settings).
In short, don't put off applying this month's patches from Microsoft. They are available via Windows Update or Automatic Update. Also, Microsoft took this opportunity to remind Windows XP users that the company will no longer be supporting Windows XP after April 2014 (guess I will have to retire the above broken Windows graphic as well). The lack of ongoing security updates for XP means it will likely become an even bigger target for attackers; if you rely on XP, please consider transitioning to a newer operating system sometime soon. Who knows, it might be a great excuse to try Linux, which tends to be very light on resources and ideal for older hardware. If you've been considering the switch for a while, take a few distributions for a spin using one of dozens of flavors of Linux available via Live CD.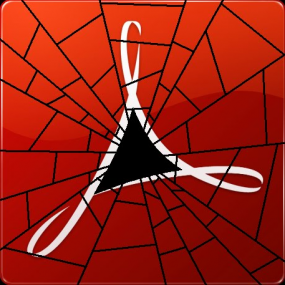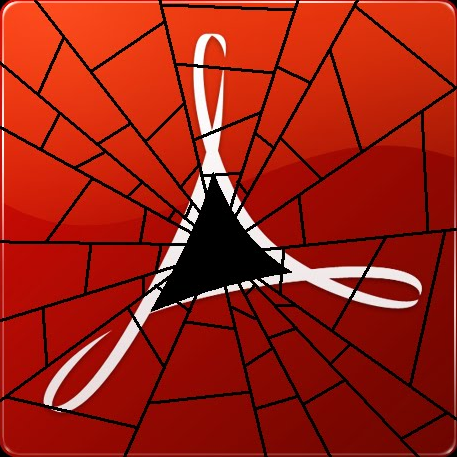 Speaking of Adobe Reader, the company today released updates to fix at least three vulnerabilities in the widely-used program. Users of Adobe Reader XI (11.0.05) for Windows and Mac should update to Adobe Reader XI (11.0.06). Obligatory note: There are other  options.
Adobe also pushed out patches for its Flash Player and AIR products. The Flash update brings the media player to version 12.0.0.38 on Windows and Mac OS X.  This link will tell you which version of Flash your browser has installed. IE10 and Chrome should auto-update their versions of Flash. If your version of Chrome (on either Windows, Mac or Linux) is not yet updated to v. 12.0.0.41, you may just need to close and restart the browser.
The most recent versions of Flash are available from the Adobe download center, but beware potentially unwanted add-ons, like McAfee Security Scan). To avoid this, uncheck the pre-checked box before downloading, or grab your OS-specific Flash download from here. Windows users who browse the Web with anything other than Internet Explorer will need to apply this patch twice, once with IE and again using the alternative browser (Firefox, Opera, e.g.).
In addition, Adode AIR (required by some applications like Pandora Desktop, for example) was updated to v. 4.0.0.1390 for Windows, Mac and Android devices. Adobe AIR checks for and prompts you to install any available updates anytime you launch an application that uses AIR; in any case, the download link is here. See the chart below for the updated version numbers for your operating system.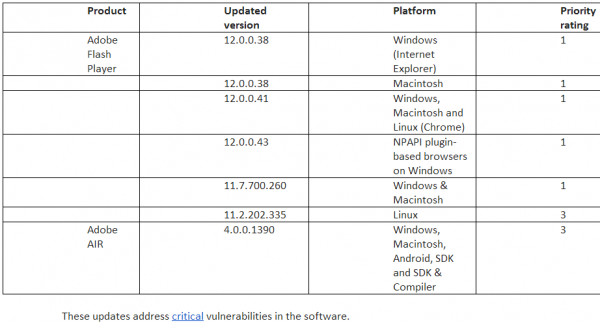 Separately, Oracle issued its critical patch update, which includes some 36 security fixes for Java. This update brings Java to Java 7 Update 51, and is available via the built-in Java updater or from Java downloads.

If you really need and use Java for specific Web sites or applications, take a few minutes to update this software. Updates are available from Java.com or via the Java Control Panel. Keep in mind that updating via the control panel will auto-select the installation of the Ask Toolbar, so de-select that if you don't want the added crapware.
Otherwise, seriously consider removing Java altogether.  I've long urged end users to junk Java unless they have a specific use for it (this advice does not scale for businesses, which often have legacy and custom applications that rely on Java). This widely installed and powerful program is riddled with security holes, and is a top target of malware writers and miscreants.
If you have an affirmative use or need for Java, unplug it from the browser unless and until you're at a site that requires it (or at least take advantage of click-to-play). Java 7 lets users disable Java content in web browsers through the Java Control Panel. Alternatively, consider a dual-browser approach, unplugging Java from the browser you use for everyday surfing, and leaving it plugged in to a second browser that you only use for sites that require Java.
There are a couple of ways to find out if you have Java installed and what version may be running.  Windows users can click Start, then Run, then type "cmd" without the quotes. At the command prompt, type "java -version" (again, no quotes). Users also can visit Java.com and click the "Do I have Java?" link on the homepage. Updates also should be available via the Java Control Panel or from Java.com.
Update, 5:33 p.m. ET: Included information about Java patches.