A number of readers have complained recently about having their Hilton Honors loyalty accounts emptied by cybercrooks. This type of fraud often catches consumers off-guard, but the truth is that the recent spike in fraud against Hilton Honors members is part of a larger trend that's been worsening for years as more companies offer rewards programs.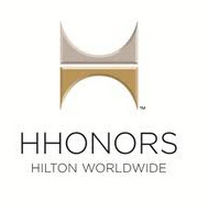 Many  companies give customers the ability to earn "loyalty" or "award" points and miles that can be used to book travel, buy goods and services online, or redeemed for cash. Unfortunately, the online accounts used to manage these reward programs tend to be less secured by both consumers and the companies that operate them, and increasingly cyber thieves are swooping in to take advantage.
Brendan Brothers, a frequent traveler from St. John's in Newfoundland, Canada, discovered a few days ago that his Hilton Honors account had been relieved of more than a quarter-million points, rewards that he'd accumulated using a credit card associated with the account. Brothers said the fraudsters were brazen in their theft, using his account to redeem a half-dozen hotel stays in the last week of September, booking rooms all along the East Coast of the United States, from Atlanta, GA to Charlotte, N.C. all the way up to Stamford, CT.
The thieves reserved rooms at more affordable Hilton properties, probably to make the points stretch further, Brothers said. When they exhausted his points, they used the corporate credit card that was already associated with the account to purchase additional points.
"They got into the account and of course the first thing they did was change my primary and secondary email accounts, so that neither me nor my travel agent were getting notifications about new travel bookings," said Brothers, co-founder of Verafin, a Canadian software security firm that focuses on anti-money laundering and fraud detection.
Brothers said he plans to dispute the credit card charges, but he's unsure what will happen with his purloined points; nearly a week after he complained to Hilton about the fraud, Brothers has yet to receive a response from the company. Hilton also did not respond to requests for comment from KrebsOnSecurity.
PUT A PIN IN IT
Hilton gives users two ways to log into accounts: With a user name and password, or a member number and a 4-digit PIN. What could go wrong here?  Judging from changes that Hilton made recently to its login process, thieves have been breaking into Hilton Honors accounts using the latter method. According to the travel loyalty Web site LoyaltyLobby, Hilton recently added a CAPTCHA to its login process, ostensibly to make it more difficult for crooks to use brute-forcing programs (or botnets) to automate the guessing of PINs associated with member accounts.
In a post on October 30, LoyaltyLobby's John Ollila wrote about a hacker selling Hilton Honors accounts for a tiny fraction of the real world value of points in those accounts. For example, the points stolen from Brothers would have fetched around USD $12 — even though the thieves in his case managed to redeem the stolen miles for approximately USD $1,200 worth of hotel reservations.
I did a bit of sleuthing on my own and was able to find plenty of sellers on shady forums offering them for about three to five percent of their actual value. As this ad from the online black market/drug bazaar known as Evolution Market indicates, the points can be redeemed for gift cards (as good as cash) at points.com and other locations that convert points to currency. The points also can be used to buy items from the Hilton shopping mall, including golf clubs, watches, Apple products and other electronics.
"I don't recommend using them for personal hotel stays, but they ARE safer (and cheaper) than using a carded hotel service," the Evolution seller advises, referring to the risks associated with using purloined points versus trying to book a stay somewhere using a stolen credit card.
Hilton Honors is hardly alone in allowing logins via account numbers and 4-digit PINs; United Airlines is another big name company that lets customers log in to view, spend and transfer points balances with little more than a member number and a PIN. These companies should offer their customers additional security options, such as the ability to secure accounts with multi-factor authentication (e.g. via Security Keys or Google's Authenticator mobile app).
If it wasn't already painfully obvious that a lot of companies and their customers could benefit from adding multi-factor authentication, check out the screen shot below, which shows an underground site that offers automated account checking tools for more than two-dozen retail destinations online. Some of these tools will help streamline the process of dumping available awards and points to a prepaid card.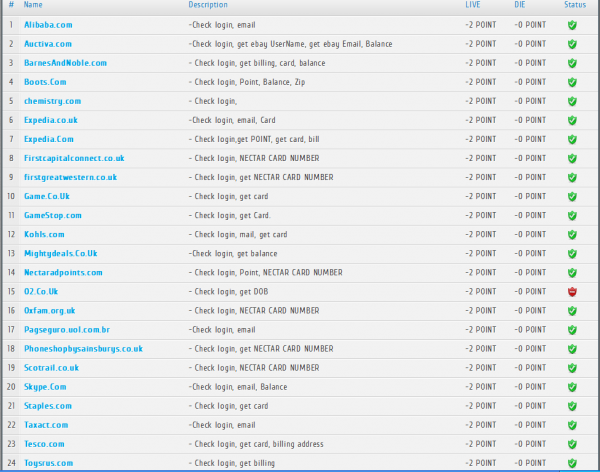 Stolen points and miles would be a great way to fund a criminal-friendly travel agency. By the way, that's actually a thing: Check out this story about services in the underground that will book stolen flights and hotels rooms for a fraction of their actual cost.