When your credit card gets stolen because a merchant you did business with got hacked, it's often quite easy for investigators to figure out which company was victimized. The process of divining the provenance of stolen healthcare records, however, is far trickier because these records typically are processed or handled by a gauntlet of third party firms, most of which have no direct relationship with the patient or customer ultimately harmed by the breach.
I was reminded of this last month, after receiving a tip from a source at a cyber intelligence firm based in California who asked to remain anonymous. My source had discovered a seller on the darknet marketplace AlphaBay who was posting stolen healthcare data into a subsection of the market called "Random DB ripoffs," ("DB," of course, is short for "database").
Eventually, this same fraudster leaked a large text file titled, "Tenet Health Hilton Medical Center," which contained the name, address, Social Security number and other sensitive information on dozens of physicians across the country.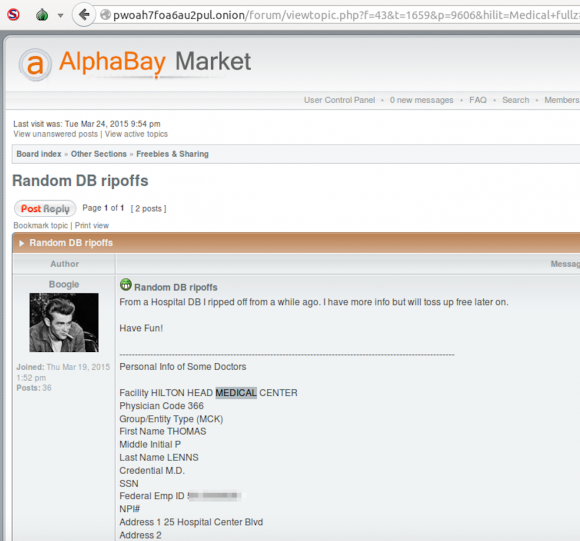 Contacted by KrebsOnSecurity, Tenet Health officials said the data was not stolen from its databases, but rather from a company called InCompass Healthcare. Turns out, InCompass disclosed a breach in August 2014, which reportedly occurred after a subcontractor of one of the company's service providers failed to secure a computer server containing account information. The affected company was 24 ON Physicians, an affiliate of InCompass Healthcare.
"The breach affected approximately 10,000 patients treated at 29 facilities throughout the U.S. and approximately 40 employed physicians," wrote Rebecca Kirkham, a spokeswoman for InCompass.
"As a result, a limited amount of personal information may have been exposed to the Internet between December 1, 2013 and April 17, 2014, Kirkham wrote in an emailed statement. Information that may have been exposed included patient names, invoice numbers, procedure codes, dates of service, charge amounts, balance due, policy numbers, and billing-related status comments. Patient social security number, home address, telephone number and date of birth were not in the files that were subject to possible exposure. Additionally, no patient medical records or bank account information were put at risk. The physician information that may have been exposed included physician name, facility, provider number and social security number."
Kirkham said up until being contacted by this reporter, InCompass "had received no indication that personal information has been acquired or used maliciously."
So who was the subcontractor that leaked the data? According to PHIprivacy.net (and now confirmed by InCompass), the subcontractor responsible was PST Services, a McKesson subsidiary providing medical billing services, which left more than 10,000 patients' information exposed via Google search for over four months.
As this incident shows, a breach at one service provider or healthcare billing company can have a broad impact across the healthcare system, but can be quite challenging to piece together.
Still, not all breaches involving health information are difficult to backtrack to the source. In September 2014, I discovered a fraudster on the now-defunct Evolution Market dark web community who was selling life insurance records for less than $7 apiece. That breach was fairly easily tied back to Torchmark Corp., an insurance holding company based in Texas; the name of the company's subsidiary was plastered all over stolen records listing applicants' medical histories.
HEALTH RECORDS GET AROUND
Health records are huge targets for fraudsters because they typically contain all of the information thieves would need to conduct mischief in the victim's name — from fraudulently opening new lines of credit to filing phony tax refund requests with the Internal Revenue Service. Last year, a great many physicians in multiple states came forward to say they'd been apparently targeted by tax refund fraudsters, but could not figure out the source of the leaked data. Chances are, the scammers stole it from hacked medical providers like PST Services and others.
In March 2015, HealthCare IT News published a list of healthcare providers that experienced data breaches since 2009, using information from the Department of Health and Human Services. That data includes HIPAA breaches reported by 1,149 covered entities and business associates, and covers some 41 million Americans. Curiously, the database does not mention some 80 million Social Security numbers and other data jeopardized in the Anthem breach that went public in February 2015 (nor 11 million records lost in the Premera breach that came to light in mid-March 2015).
Sensitive stolen data posted to cybercrime forums can rapidly spread to miscreants and ne'er-do-wells around the globe. In an experiment conducted earlier this month, security firm Bitglass synthesized 1,568 fake names, Social Security numbers, credit card numbers, addresses and phone numbers that were saved in an Excel spreadsheet. The spreadsheet was then transmitted through the company's proxy, which automatically watermarked the file. The researchers set it up so that each time the file was opened, the persistent watermark (which Bitglass says survives copy, paste and other file manipulations), "called home" to record view information such as IP address, geographic location and device type.
The company posted the spreadsheet of manufactured identities anonymously to cyber-crime marketplaces on the Dark Web. The result was that in less than two weeks, the file had traveled to 22 countries on five continents, was accessed more than 1,100 times. "Additionally, time, location, and IP address analysis uncovered a high rate of activity amongst two groups of similar viewers, indicating the possibility of two cyber crime syndicates, one operating within Nigeria and the other in Russia," the report concluded.