On any given day, there are thousands of gift cards from top retailers for sale online that can be had for a fraction of their face value. Some of these are exactly what they appear to be: legitimate gift cards sold through third-party sites that specialize in reselling used or unwanted cards. But many of the more steeply discounted gift cards for sale online are in fact the product of merchandise return fraud, meaning consumers who purchase them unwittingly help thieves rob the stores that issued the cards.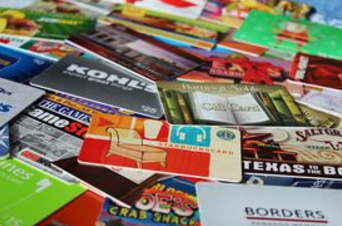 This type of scam mainly impacts brick-and-mortar retailers that issue gift cards when consumers return merchandise at a store without presenting a receipt. Last week I heard from KrebsOnSecurity reader Lisa who recently went online to purchase a bunch of steeply discounted gift cards issued by pet supply chain Petco.
Lisa owns two Rottweilers that both eat a good chunk of their weight each month in dog food, so Lisa said she felt like she'd really hit on a bargain when she found a $165 Petco gift card for sale at a popular online gift card retailer for $120 (a nearly 30 percent discount on the value).
"When I went to Petco to get my monthly supply of dog food and snacks for my Rotties, I used my merchandise card and the manager shared with me that folks are stealing merchandise from one Petco store and returning the items to another without a receipt and then selling the cards to places like raise.com and cardpool.com at a discounted price," Lisa recounted.
Petco's official policy is that for returns more than 60 days after the purchase — or if the receipt is unavailable — the value of the goods returned will be refunded to a merchandise card. Lisa said she bought the Petco card from raise.com, but she said the company never disclosed that the card was a merchandise return card — a fact that was printed on the front of the card she received.
"I feel really bad now because my purchase of these cards may have contributed to unlawful activities," Lisa said. "Even though I saved $40+, Petco actually lost money as a result."
Neither Raise nor Petco responded to requests for comment. But a look at the available Petco cards for sale via one gift card tracking site — giftcardgranny.com — shows Petco cards routinely sell for at least 25 percent off their value.
In any case, this fraud scheme is hardly specific to Petco. Cards from Petsmart, a competitor that also offers merchandise return cards, generally sell at 20 percent off their value. Clothier H&M's cards average about 30 percent off.
Contrast these discounts with those for gift cards from restaurants, fuel stations and other businesses that generally don't have to deal with customer returns and you'll notice two interesting patterns: For starters, the face value of the cards from merchants that don't take customer returns are far more likely to be even amounts, such as $50, $25 and $40. The percentage off the face value also tends to be much lower — between 3 and 15 percent. For example, see the discount percentage and value of cards from Starbucks and Chevron.
"Twenty-five percent off is really high, and there aren't many that offer that high of a discount," said Damon McCoy, an assistant professor of computer science at New York University and an expert on fraud involving stored value cards. "Normally, it is around 5 percent to 15 percent."
According to a study conducted jointly by KingRogers International and The Retail Equation, approximately nine percent of all returns in the United States are fraudulent. The National Retail Foundation estimates that the problem will cost U.S. retailers nearly $11 billion this year.
Investigators say the crimes very often are tied to identity theft rings and drug addicts. Last month, authorities in Michigan convicted a 46-year-old father of four for running a large-scale fencing operation that used teams of prostitutes, heroin users, parolees and panhandlers to steal high-priced items from local Home Depot stores and then return the goods to a different Home Depot location in exchange for store debit cards.
Of course, another huge source card of gift card fraud are cards purchased with stolen credit cards. Thieves will buy "dumps" — card data stolen from brick-and-mortar businesses — and encode that data onto anything with a magnetic strip and try to buy high-dollar gift cards from a range of retailers. The carded gift cards very often wind up for sale online at steep 20-30 percent discounts.
Earlier this year I saw part of this process in action at a Giant grocery store in Maryland. The man in front of me in line looked and smelled homeless. The only items he was trying to buy were several $200 gift cards that Giant had on sale for various retailers. When the first card he swiped was declined, the man fished two more cards out of his wallet. Each was similarly declined, but the man just shrugged and walked out of the store. I asked the cashier if this sort of thing happened often, and he just shook his head and said, "Man, you have no idea."
Lisa admits she remains conflicted over whether she would buy another steeply discounted card to help feed her dogs. But she said retailers could help stem this type of fraud by tying merchandise return cards to the identity of the person who returned the merchandise in the first place. Most stores that issue merchandise return cards now require the person returning the goods to show a valid state driver's license, but the cards are not tied to that customer, nor do stores check ID when consumers use merchandise return cards at the store to purchase goods.