When you're lurking in the computer crime underground, it pays to watch your back and to keep your BS meter set to  'maximum.' But when you've gained access to an elite black market section of a closely guarded crime forum to which very few have access, it's easy to let your guard down. That's what I did earlier this year, and it caused me to chase a false story. This blog post aims to set the record straight on that front, and to offer a cautionary (and possibly entertaining) tale to other would-be cybersleuths.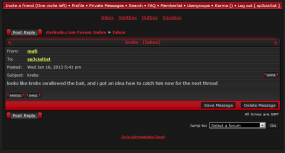 On Jan. 16, 2013, I published a post titled, "New Java Exploit Fetches $5,000 Per Buyer." The details in that story came from a sales thread posted to an exclusive subforum of Darkode.com, a secretive underground community that has long served as a bazaar for all manner of cybercriminal wares, including exploit kits, spam services, ransomware programs, and stealthy botnets. I've maintained a presence on this forum off and on (mostly on) for the past three years, in large part because Darkode has been a reliable place to find information about zero-days, or highly valuable threats that exploit previously unknown vulnerabilities in software — threats that are shared or used by attackers before the developer of the target software knows about the vulnerability.
I had previously broken several other stories about zero-day exploits for sale on Darkode that later showed up "in-the-wild" and confirmed by the affected vendors, and this sales thread was posted by one of the forum's most trusted members. The sales thread also was created during a time in which Java's maker Oracle Corp. was struggling with multiple zero-days in Java.
What I didn't know at the time was that this particular sales thread was little more than a carefully laid trap by the Darkode administrators to discover which accounts I was using to lurk on their forum. Ironically, I recently learned of this snare after white/grey hat hackers compromised virtually all of the administrator accounts and private messages on Darkode.
"Looks like Krebs swallowed the bait, and i got an idea how to catch him now for the next thread," wrote Darkode administrator "Mafi" in a Jan. 16 private message to a co-admin who uses the nickname "sp3cial1st".
Following this post, the administrators compared notes as to which users had viewed the fake Java zero-day sales thread during the brief, two-day period it was live on a restricted portion of Darkode. "I have taken a careful examination of the logs related to the java 0day thread," sp3cial1st wrote to a Darkode administrator who used the nick "187".