Organized cyber criminals stole almost $11 million in two highly coordinated ATM heists in the final days of 2012, KrebsOnSecurity has learned. The events prompted Visa to warn U.S. payment card issuers to be on high-alert for additional ATM cash-out fraud schemes in the New Year.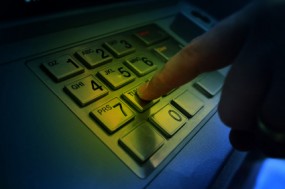 According to sources in the financial industry and in law enforcement, the thieves first struck on Christmas Eve 2012. Using a small number of re-loadable prepaid debit cards tied to accounts that they controlled, scammers began pulling cash out of ATMs in at least a dozen countries. Within hours, the perpetrators had stolen approximately $9 million.
Then, just prior to New Year's Eve, the fraudsters struck again, this time attacking a card network in India and making off with slightly less than $2 million, investigators say.
The accounts that the perpetrators used to withdraw money from ATMs were tied to re-loadable prepaid debit cards, which can be replenished with additional funds once depleted. Prepaid card networks generally enforce low-dollar limits that restrict the amounts customers can withdraw from associated accounts in a 24 hour period. But in both ATM heists, sources said, the crooks were able to increase or eliminate the withdrawal limits for the prepaid accounts they controlled.
Shortly after the second heist, Visa released a private alert to payment card issuers, warning them to be on the lookout for additional ATM mega-heists over the New Years holiday. Sources say Visa's alert was indeed prompted by the multi-million dollar heists at the end of December.
The Visa alert (PDF), sent to card issuers at the beginning of January 2013, warns:
"Visa has been alerted to new cases where ATM Cash-Out frauds have been attempted and successfully completed by organized criminal groups across the globe. In a recently reported  case, criminals used a small number of cards to conduct 1000's of ATM withdrawals in multiple  countries around the world in one weekend."

"These attacks result from hackers gaining access to issuer authorization systems and card parameter information. Once inside, the hackers manipulate daily withdrawal amount limits, card balances and other card parameters to facilitate massive fraud on individual cards. In some instances over $500K USD has been withdrawn on a single card in less than 24 hours."