Scott Henry scoured the Web for a good deal on buying tax preparation software. His search ended at Blvdsoftware.com, which advertised a great price and an instant download. But when it came time to install the software, Henry began to have misgivings about the purchase, and reached out to KrebsOnSecurity for a gut-check on whether trusting the software with his tax information was a wise move.
Five days after Henry purchased the product, blvdsoftware.com vanished from the Internet.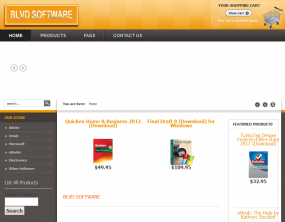 Several red flags should have stopped him from making the purchase. Blvdsoftware.com claimed it had been in business since 2005, but a check of the site's WHOIS registration records showed it was created in late October 2011. The site said that Blvdsoftware was a company in Beverly Hills, Calif., but the California Secretary of State had no record of the firm, and Google Maps knew nothing of the business at its stated address.
Henry said that in years past, he'd always bought a CD version of the software. But this year, he opted for digital download.
"I was going to download from Amazon — they sell a download-only version — and then I saw the cheaper site and went with them," he said in an email. He installed the program, but said he didn't enter any of his sensitive data. For one thing, he never received a license key from Blvdsoftware, and the program he installed didn't request one. Now he's wondering if the program was — at the very least pirated — and at worst — bundled with software designed to surreptitiously snoop on his computer.