Organized cyber thieves took roughly $600,000 from the coastal city of Brigantine, New Jersey this week after stealing the city's online banking credentials.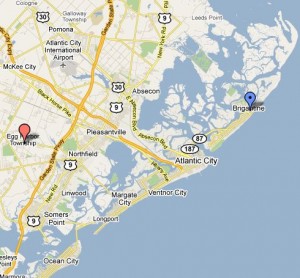 The break-in marks the second time this year that hackers have robbed the coffers of an Atlantic County town: In March, a similar attack struck Egg Harbor Township, N.J., which lost $100,000 in a similar intrusion.
Like the Egg Harbor incident and dozens of others documented here, the loot from the Brigantine heist was sent to multiple "money mules," willing or unwitting people hired through work-at-home job offers to help computer crooks launder stolen cash.
Brigantine City officials said the incident began sometime before 6 p.m. on September 28th, when TD Bank notified city finance officers that multiple wire transfers had been made from its accounts. Brigantine Police's Lt. James Bennett said in a written statement:
"Unknown person(s) had apparently obtained a user name and password for the city's main TD Bank account when our finance personnel attempted to login (through either a fake Web page or an undetectable virus). Then several wire transfers were started with amounts ranging from a few thousand to over $300,000, for a total of about $600,000. The last update from TD Bank was that they were able to recall approximately $400,000 in transfers and were working on recalling the remainder. The investigation is being handled by the FBI, New Jersey State Police with the Brigantine Police Department and TD Bank security."
The attack occurred in the middle of a week in which federal officials announced dozens of arrests and charges against money mules and the organized criminals responsible for orchestrating these types of break-ins. While it's unclear whether those responsible for the attack on Brigantine were apprehended or charged this week, the method by which the thieves made off with at least some of the loot bears the same fingerprint as past breaches, including the Egg Harbor attack.