A security breach at a Web portal for the U.S. Department of Homeland Security has exposed private documents and some financial information belonging to at least 114 organizations that bid on a contract at the agency last year.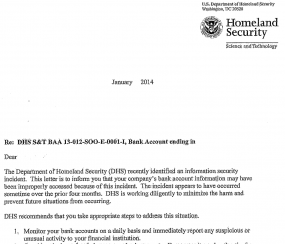 "This letter is to inform you that your company's bank account information may have been improperly accessed because of this incident," reads a letter sent to affected organizations earlier this month by DHS privacy officer Christopher Lee. "The incident appears to have occurred sometime over the prior four months."
The letter was sent to organizations that bid on a 2013 contract to help DHS's Science & Technology division develop new communications technologies for first responders. According to DHS, the documents were downloaded from a department Web portal by unauthorized persons outside of the agency, although it hasn't yet determined the cause or source of that access.