–"Common sense always speaks too late." — Raymond Chandler
A new study about the (in)efficacy of anti-virus software in detecting the latest malware threats is a much-needed reminder that staying safe online is more about using your head than finding the right mix or brand of security software.
Last week, security software testing firm NSS Labs completed another controversial test of how the major anti-virus products fared in detecting malware pushed by malicious Web sites: Most of the products took an average of more than 45 hours — nearly two days — to detect the latest threats.
The two graphs below show the performance of the commercial versions of 10 top anti-virus products. NSS permitted the publication of these graphics without the legend showing how to track the performance of each product, in part because they are selling this information, but also because — as NSS President Rick Moy told me — they don't want to become an advertisement for any one anti-virus company.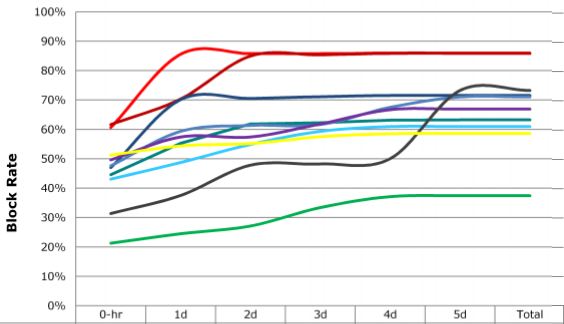 That's fine with me because my feeling is that while products that come out on top in these tests may change from month to month, the basic takeaway for users should not: If you're depending on your anti-virus product to save you from an ill-advised decision — such as opening an attachment in an e-mail you weren't expecting, installing random video codecs from third-party sites, or downloading executable files from peer-to-peer file sharing networks — you're playing Russian Roulette with your computer.