The restaurant chain Chipotle Mexican Grill seems pretty good at churning out huge numbers of huge burritos, but the company may need to revisit some basic corporate cybersecurity concepts. For starters, Chipotle's human resources department has been replying to new job applicants using the domain "chipotlehr.com" — a Web site name that the company has never owned or controlled.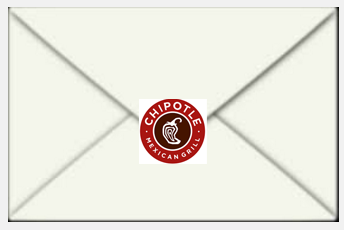 Translation: Until last week, anyone could have read email destined for the company's HR department just by registering the domain "chipotlehr.com". Worse, Chipotle itself has inadvertently been pointing this out for months in emails to everyone who's applied for a job via the company's Web site.
This security oversight by Chipotle was brought to light by KrebsOnSecurity.com reader Michael Kohlman, a professional IT expert who discovered the bug after applying for a job at the food retailer.
Kohlman, who's between jobs at the moment, said he submitted his resume and application to Chipotle's online HR department not necessarily because he wanted to be a restaurant employee, but more to satisfy the terms of his unemployment benefits (which require him to regularly show proof that he is actively looking for work).
Kohlman said after submitting his resume and application, he received an email from Chipotle Careers that bore the return address @chipotlehr.com. The Minnesota native said he became curious about the source of the Chipotle HR email when a reply sent to that address generated an error or "bounce" message saying his missive was undeliverable.
"The canned response was very odd," Kohlman said. "Rather than indicating the email didn't exist, [the bounced message] just came back and said it could not resolve the DNS settings."
A quick search for ownership records on the domain showed that it had never before been registered. So, Kohlman said, on a whim he plunked down $30 to purchase it.
The welcome message that one receives upon successfully submitting an application for a job at Chipotle discourages users from replying to the message. But Kohlman said a brief look at the incoming email associated with that domain revealed a steady stream of wayward emails to chipotlehr.com — mainly from job seekers and people seeking password assistance to the Chipotle HR portal.