An increasing number of ATM skimmers targeting banks and consumers appear to be of the razor-thin insert variety. These card-skimming devices are made to fit snugly and invisibly inside the throat of the card acceptance slot. Here's a look at a stealthy new model of insert skimmer pulled from a cash machine in southern Europe just this past week.
The bank that shared these photos asked to remain anonymous, noting that the incident is still under investigation. But according to an executive at this financial institution, the skimmer below was discovered inside the ATM's card slot by a bank technician after the ATM's "fatal error" alarm was set off, warning that someone was likely tampering with the cash machine.
"It was discovered in the ATM's card slot and the fraudsters didn't manage to withdraw it," the bank employee said. "We didn't capture any hidden camera [because] they probably took it. There were definitely no PIN pad [overlays]. In all skimming cases lately we see through the videos that fraudsters capture the PIN through [hidden] cameras."
Here's a closer look at the electronics inside this badboy, which appears to be powered by a simple $3 Energizer Lithium Coin battery (CR2012):
Flip the device around and we get another look at the battery and the data storage component. The small area circled in red on the left in the image below appears to be the component that's made to read the data from the magnetic stripe of cards inserted into the compromised ATM.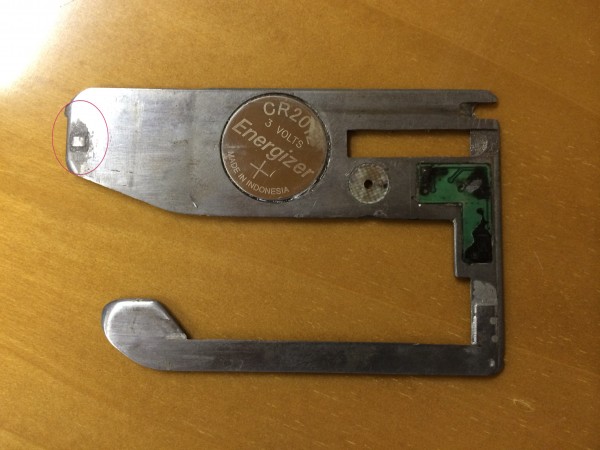 Virtually all European banks issue chip-and-PIN cards (also called Europay, Mastercard and Visa or EMV), which make it far more expensive for thieves to duplicate and profit from counterfeit cards. Even still, ATM skimming remains a problem for European banks mainly because several parts of the world — most notably the United States and countries in Asia and South America — have not yet adopted this standard. Continue reading →