The anti-virus industry has long drawn its biggest share of profits from loyal customers, extracting full-price for the software from existing customers seeking license renewals while steeply discounting their products for new users. But a new comparison shopping site makes it simple for renewing customers to take advantage of these introductory deals, or to switch to a competing product for a hefty price reduction.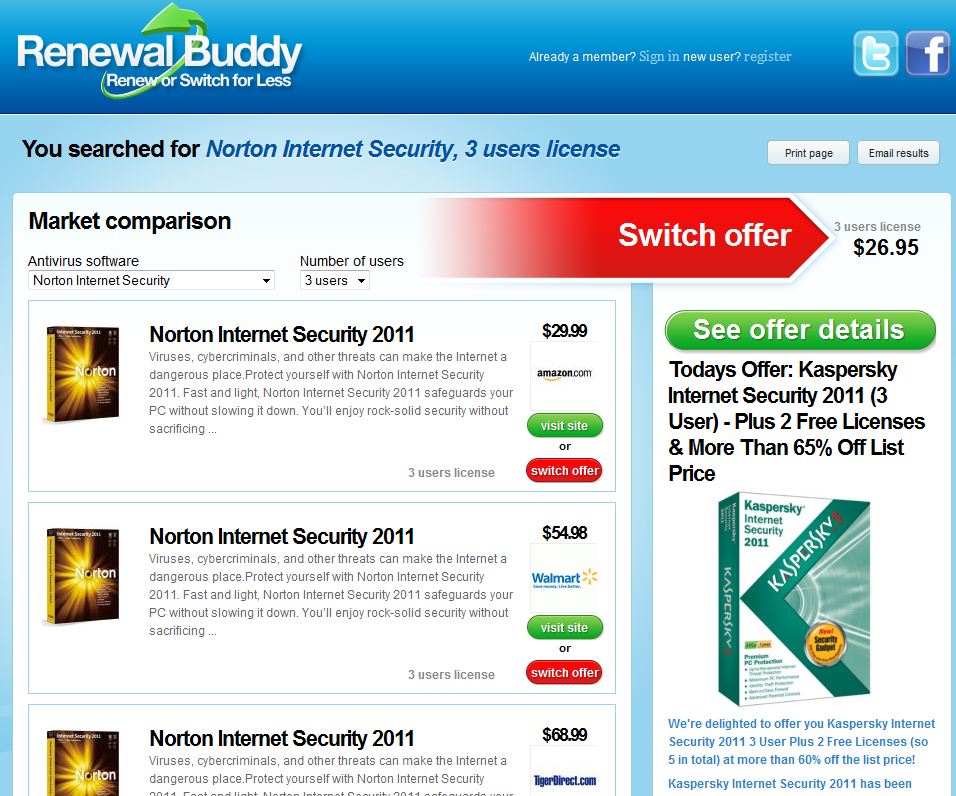 Launched a month ago, renewalbuddy.com is intended to streamline the process of searching for deals to renew your existing anti-virus product without paying the full renewal price. For example, I have Norton Internet Security installed on one of my Windows 7 machines; I selected that product from the pull-down menu, told it I wanted a 3-user license, and instantly saw an offer for NIS 2011 for $29.99. Had I simply waited until the product was about to expire and followed the prompt from the currently-installed software to renew my license, that renewal would have cost me $62.99, according to Symantec's site.
True, you can find these deals on your own just by spending a few minutes searching the Web (the $29.99 link offered by this service brought me to an offer on Amazon.com). But my sense is that very few people who pay for anti-virus software ever do this.
"People assume that a renewal license key is somehow different from a new license key, and that's why most people click on the expiration pop-up and go through the process and end up paying full price for renewals," said  Graham O'Reilly, renewalbuddy.com's chief executive and a former sales director of the U.K. division of anti-virus maker AVG Technologies. "What people don't understand is that a license key is a license key, and that they can just pop it in to the program without having to reinstall it, and it will extend a license in the same way."