To combat an increase in ATM fraud from skimmer devices, cash machine makers have been outfitting ATMs with a variety of anti-skimming technologies. In many cases, these anti-skimming tools take the shape of green or blue semi-transparent plastic casings that protrude from the card acceptance slot to prevent would-be thieves from easily attaching skimmers. But in a surprising number of incidents, skimmer scammers have simply crafted their creations to look exactly like the anti-skimming devices.
Earlier this year, authorities in Ireland began dealing with a rash of ATM skimmers like the one picture directly below. The green anti-skimming device is backlit and oddly-shaped, a design intended to confound skimmer makers. But as can been seen from the first picture here, the only obvious difference between a compromised ATM and an unadulterated one in this case is a small plastic lip at the top, which the crooks in this attack used to house the electronic brains for their skimmer.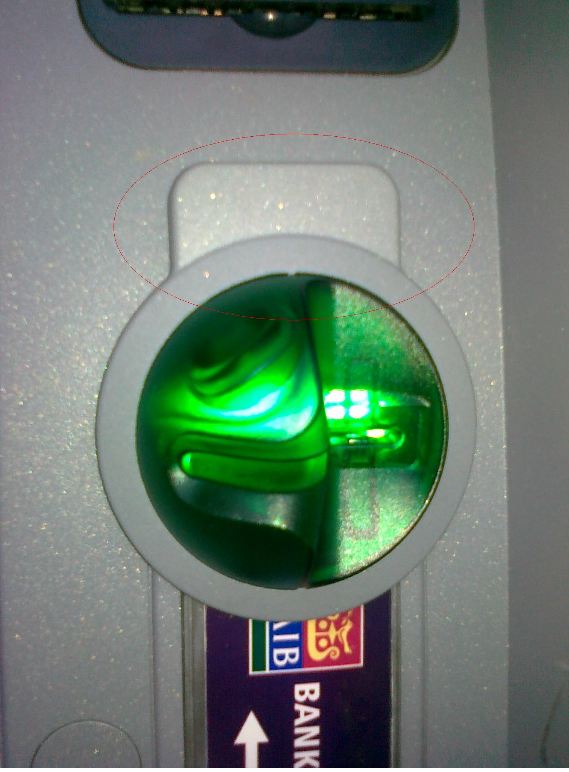 The second picture below shows the underside of the skimming device, removed from a compromised machine in the background.
A representative from the Garda (Irish Police) declined to discuss the skimming photos, saying that for legal reasons they were unable to comment on ongoing court cases. But a source close to the investigation said identical skimmers have been found attached to ATMs across the country. The source said a 33-year-old Moldovan man has been arrested in Limerick in connection with the attacks, which authorities have called part of a global ATM fraud operation.