Scam artists have been using hacked accounts from retailer Kohls.com to order high-priced, bulky merchandise that is then shipped to the victim's home. While the crooks don't get the stolen merchandise, the unauthorized purchases rack up valuable credits called "Kohl's cash" that the thieves quickly redeem at Kohl's locations for items that can be resold for cash or returned for gift cards.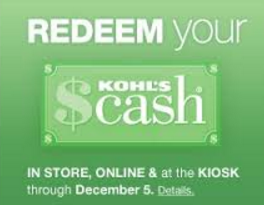 KrebsOnSecurity reader Suzanne Perry, a self-professed "shopaholic" from Gilbert, Penn., said she recently received an email from Kohls.com stating that the email address on her account had been changed. Recognizing this as a common indicator of a compromised account, Perry said she immediately went to Kohls.com — which confirmed her fears that her password had been changed.
On a whim, Perry said she attempted to log in with the "updated" email address (the one the thief used) along with her existing password. Happily, the thieves had been too lazy to change the password.
"Once I was logged in, I checked my order history to determine if any fraudulent orders were placed in the 20 minutes since I received the notification," she said. "I wasn't that surprised to see two online orders, totaling almost $700 each, but I was very surprised to see they were being shipped to my house and not some address I never heard of."
Perry said she then contacted Kohl's and gave them the two order numbers and the fraudulent email address.
"I explained what happened, and they were very helpful in canceling the orders, updating my email address, and resetting my password," she said. "I told them I couldn't understand why someone would hack into my account just to have a bunch of stuff shipped to my own address. I was trying to figure out what the criminal would possibly have to gain from the effort, but the service representative informed me that is actually a very common occurrence for them."
Turns out, the criminal wasn't after the merchandise at all. Rather, the purpose of changing her email address was to drain the account's stored Kohl's cash, a form of rebate that Kohl's offers customers — currently $10 for every $50 spent at the store. The two fraudulent orders yielded $220 in Kohls cash total, which is emailed once the order is confirmed (hence the need to change the victim's email address).
"Since the orders were being shipped to me, even though they were  above the threshold for what my typical online spending behavior is, no red flags were raised on their end," Perry said.
More interestingly, virtually all of the merchandise the thieves ordered to build up the account's Kohl's cash balance were bulky items: Three baby cribs, a stroller system and car seat, and a baby bath tub, among other items. Perry said Kohl's told her that the thieves do this because they know bulky items usually take longer to return, and since Kohl's revokes Kohl's cash credits earned on items that are later returned, the thieves can spend the stolen Kohl's credits as long as the owner of the hijacked account doesn't return the fraudulently ordered items. Continue reading →