The makers of Avast antivirus software are warning users about a new scam involving phone calls from people posing as customer service reps for the company and requesting remote access to user systems. Avast is still investigating the incidents, but a number of users are reporting that the incidents followed experiences with iYogi, the company in India that is handling Avast's customer support.
A follow-up investigation by KrebsOnSecurity indicates that Avast (among other security companies) is outsourcing its customer support to a third-party firm that appears engineered to do little else but sell expensive and unnecessary support contracts.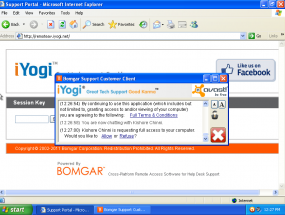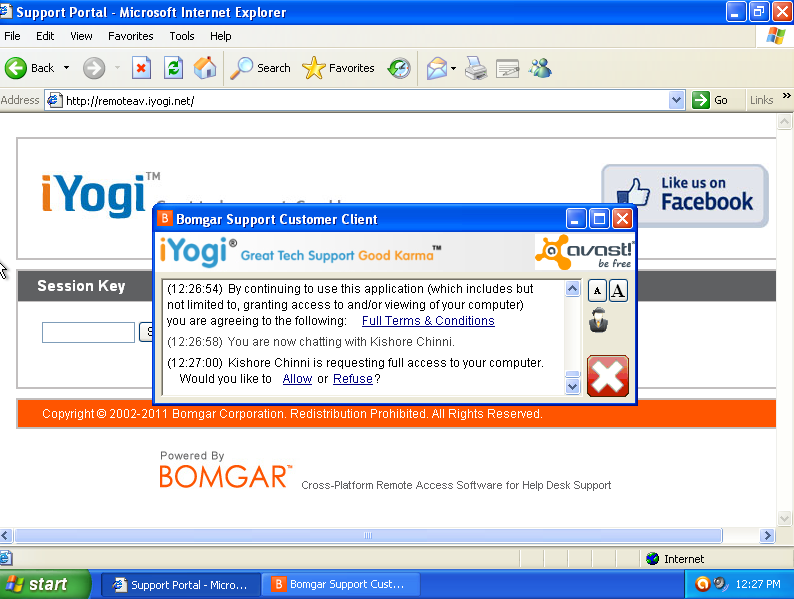 Adam Riley, Avast's third party support manager, wrote in a post on the company's blog that "during the past week or so, we have received some complaints and it appears that some of our customers are being targeted by a new scam.  Luckily only a handful of customers have contacted us regarding this so far, but they report receiving phone calls from 'Avast customer service' reps who need to take control of their computer to resolve some issue and who, for a fee, wish to charge them for this privilege."
I'd first heard about the issue when a reader wrote in to say he'd received complaints from his clients about calls from someone claiming to represent Microsoft and requesting remote access to user computers to help troubleshoot computer problems.
I decided to investigate iYogi myself, and created a fresh installation of Windows XP on my Mac, using the free virtual machine from Virtualbox. I wanted to see whether I, too, would receive follow-up sales pitches. I also wanted to see for myself if there was anything to the claims on Avast's user forum that iYogi was using support requests to push expensive "maintenance and support" packages.
A call to the support number listed on Avast's site put me through to a technician named Kishore Chinni; I told Mr. Chinni that I had just installed a copy of Avast, but that I couldn't be certain it was updating correctly. He asked for a phone number and an email address, and then said the first thing he needed to do was take remote control over my system. He directed me to use Internet Explorer to visit a Web site that requested permission to install two ActiveX add-ons. Those add-ons installed a remote control client called Bomgar Support.
Chinni asked if I had previously installed any antivirus software, and I said I wasn't sure (I hadn't). He then fired up the Windows Registry Editor (regedit), poked around some entries, and then opened up the Windows System Configuration Utility (msconfig) and the Windows Event Viewer. Chinni somberly read aloud a few of the entries in the event viewer marked with yellow exclamation points, saying they were signs that my computer could have a problem. He then switched over to the "services" panel of the system configuration tool and noted that the "manufacturer" listing next to avast! antivirus read "unknown."
"When it says unknown like that, these are warnings that there could be an infection running on the computer," Chinni explained. He proceeded to install an iYogi "tune up" tool called PCDiagnostics, which took about 60 seconds to complete a scan of my system. The results showed that my brand new installation of Windows had earned a 73% score, and that it had to detected 17 registry errors and a problem with Windows Update (this was unlikely, as I had already enabled Windows Update and Automatic Updates before I made the support call, and had installed all available security patches). Chinni explained that the "antispyware" warning generated by the PCDiagnostics scan was an indication that a previously installed security software program had not been cleanly removed and was probably causing problems with my computer.
He said another technician could help me with these problems if I wanted. When I inquired whether it would be free, Chinni told me that the company sells support packages for one- to three-year durations, and that the starting price for a support package was $169.99. Continue reading →