Criminals have been conducting complex, targeted e-mail attacks against employees at more than 100 e-mail service providers (ESPs) over the past several months in a bid to hijack computers at companies that market directly to customers of some of the world's largest corporations, anti-spam experts warn.
The attacks are a textbook example of how organized thieves can abuse trust relationships between companies to access important resources that are then recycled in future attacks. According to multiple sources, the so-called "spear phishing" attacks in this fraud campaign arrived as virus-laden e-mails addressing ESP employees by name, and many cases included the name of the ESP in the body of the message.
The poisoned missives used a variety of ruses, but generally included an invitation to view images at a Web site URL included in the message — such as a link to wedding photos or an online greeting card. Recipients who clicked the links were redirected to sites that attempted to silently install software designed to steal passwords and give attackers remote control over infected systems.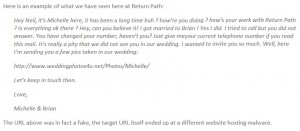 Neil Schwartzman, senior director of security strategy at e-mail security provider Return Path Inc, said the spear-phishing attacks have targeted e-mail marketing companies that manage opt-in campaigns for some of the biggest corporate brands in existence.
"This is an organized, deliberate, and destructive attack clearly intent on gaining access to industry-grade email deployment systems," Schwartzman said. "Further, the potential consequences should ESP client mailing lists be compromised at this time of the year is unimaginable."
Update: Nov. 25, 12:33 p.m. ET: Return Path is now saying that it also was compromised and that its clients are reporting that they have received spear-phishing attacks over the last 24 hours. Read on past the jump for more on this update.
Original post:
Chris Nelson, a security manager at an ESP that was compromised by these attacks, spoke with KrebsOnSecurity.com on condition that his employer not be named. Nelson said he traced the attack used to infiltrate his company's servers back to Internet addresses in the Netherlands, where he found evidence that at least a dozen other ESPs were similarly compromised. The attacks, he said, appear aimed at gaining control over customer accounts and e-mail address lists that could be used in future spam and scam campaigns.
All of the evidence suggests these attacks have been going on for several months, Nelson said.