root9B Holdings, a company that many in the security industry consider little more than a big-name startup aimed at cashing in on the stock market's insatiable appetite for cybersecurity firms, surprised no one this week when it announced it was ceasing operations at the end of the year.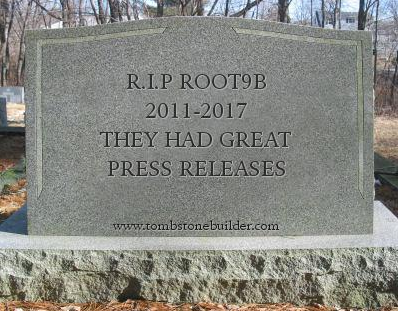 Founded in 2011 as root9B Technologies, the company touted itself as an IT security training firm staffed by an impressive list of ex-military leaders with many years of cybersecurity experience at the Department of Defense and National Security Agency (NSA). As it began to attract more attention from investors, root9B's focus shifted to helping organizations hunt for cyber intruders within their networks.
By 2015, root9B was announcing lucrative cybersecurity contracts with government agencies and the infusion of millions from investors. The company's stock was ballooning in price, reaching an all-time high in mid-May 2015.
That was just days after root9B issued a headline-grabbing report about how its cyber intelligence had single-handedly derailed a planned Russian cyber attack on several U.S. financial institutions.
The report, released May 12, 2015, claimed root9B had uncovered plans by an infamous Russian hacking group to target several banks. The company said the thwarted operation was orchestrated by Fancy Bear/Sofacy, a so-called "advanced persistent threat" (APT) hacking group known for launching sophisticated phishing attacks aimed at infiltrating some of the world's biggest corporations.  root9B released its Q1 2015 earnings two days later, reporting record revenues.
On May 20, 2015, KrebsOnSecurity published a rather visceral dissection of that root9B report: Security Firm Redefines APT; African Phishing Threat. The story highlighted the thinness of the report's claims, pointing to multiple contradictory findings by other security firms which suggested the company had merely detected several new phishing domains being erected by a comparatively low-skilled African phishing gang that was well-known to investigators and U.S. banks.
In mid-June 2015, an anonymous researcher who'd apparently done a rather detailed investigation into root9B's finances said the company was "a worthless reverse-merger created by insiders with [a] long history of penny-stock wipeouts, fraud allegations, and disaster."
That report, published by the crowd-sourced financial market research site SeekingAlpha.com, sought to debunk claims by root9B that it possessed "proprietary" cybersecurity hardware and software, noting that the company mainly acts as a reseller of a training module produced by a third party.
root9B's stock price never recovered from those reports, and began a slow but steady decline after mid-2015. In Dec. 2016, root9B Technologies announced a reverse split of its issued and outstanding common stock, saying it would be moving to the NASDAQ market with the trading symbol RTNB and a new name — root9B Holdings. On January 18, 2017, a reshuffled root9B rang the market opening bell at NASDAQ, and got a bounce when it said it'd been awarded a five-year training contract to support the U.S. Defense Department. Continue reading →