The Department of Homeland Security's U.S. Computer Emergency Readiness Team (US-CERT) is warning about a dangerous security hole in Adobe's Shockwave Player that could be used to silently install malicious code. The truly shocking aspect of this bug? U.S. CERT first warned Adobe about the vulnerability in October 2010, and Adobe says it won't be fixing it until February 2013.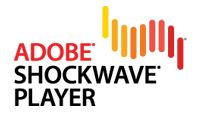 Shockwave is a browser plug-in that some sites require. At issue is a feature of Adobe Shockwave that allows the installation of "Xtras," downloadable components meant to interact with the media player. According to an advisory from US-CERT the problem is that Shockwave installs Xtras that are signed by Adobe or Macromedia without prompting, which can allow an attacker to target vulnerabilities in older Xtras.
From the advisory:
When a Shockwave movie attempts to use an Xtra, it will download and install it as necessary. If the Xtra is signed by Adobe or Macromedia, it will be installed automatically without any user interaction. Because the location from which Shockwave downloads the Xtra is stored in the Shockwave movie itself, this can allow an attacker to host old, vulnerable Xtras that can be installed and exploited automatically when a Shockwave movie is played.
US-CERT warned that by convincing a user to view a specially crafted Shockwave content (e.g., a web page or an HTML email message or attachment), an attacker may be able to execute arbitrary code with the privileges of the user.
Reached via email, an Adobe spokeswoman confirmed that US-CERT had alerted the company about the flaw in October 2010, but said Adobe is not aware of any active exploits or attacks in the wild using this vulnerability.
"Adobe has been working on addressing this issue in the next major release of Adobe Shockwave Player, which is currently scheduled to be released in February 2013," Adobe's Wiebke Lips wrote.