Bloomberg reports that U.S. federal investigators probing the theft of 80 million Social Security records and other sensitive data from insurance giant Anthem Inc. are pointing the finger at state-sponsored hackers from China. Although unconfirmed, that suspicion would explain a confidential alert the FBI circulated last week warning that Chinese hackers were targeting personally identifiable information from U.S. commercial and government networks.
According to this story from Bloomberg's Michael Riley and Jordan Robertson, "the attack appears to follow a pattern of thefts of medical data by foreigners seeking a pathway into the personal lives and computers of a select group — defense contractors, government workers and others, according to a U.S. government official familiar with a more than year-long investigation into the evidence of a broader campaign."
While the story is light on details, it adds a bit more context to an FBI "flash alert" that KrebsOnSecurity obtained independently last week. The alert said the FBI has received information regarding a group of cyber actors who have compromised and stolen sensitive business information and Personally Identifiable Information (PII) from US commercial and government networks through cyber espionage."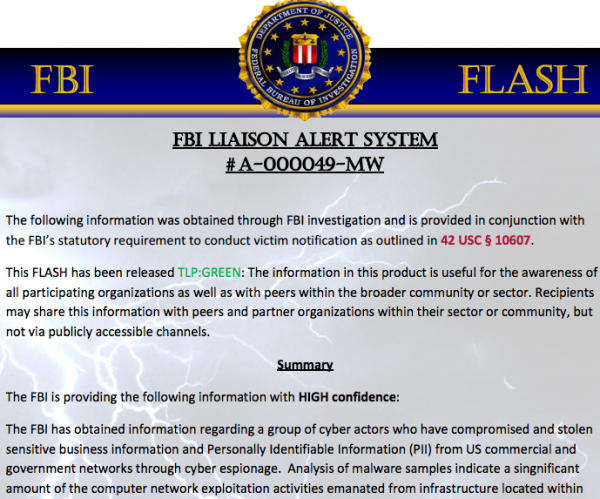 The alert notes that analysis of malware samples used in the attack indicate a significant amount of the computer network exploitation activities emanated from infrastructure located within China. The FBI said the tools used in the attack were referenced in open source reports on Deep Panda, a claim that also shows up in the Bloomberg piece. That story references data about Deep Panda from cybersecurity firm CrowdStrike, which specializes in attributing nation state-level attacks.
According to the FBI, Deep Panda has previously used Adobe Flash zero-day exploits in order to gain initial access to victim networks. While it may be unrelated, it's worth noting that in the past two weeks alone, Adobe has shipped no fewer than three unscheduled, emergency updates to address Flash Player vulnerabilities that were being exploited in active attacks at the time Adobe released patches.
The FBI's flash advisory continues:
"Information obtained from victims indicates that PII was a priority target. The FBI notes that stolen PII has been used in other instances to target or otherwise facilitate various malicious activities such as financial fraud though the FBI is not aware of such activity by this group. Any activity related to this group detected on a network should be considered an indication of a compromise requiring extensive mitigation and contact with law enforcement."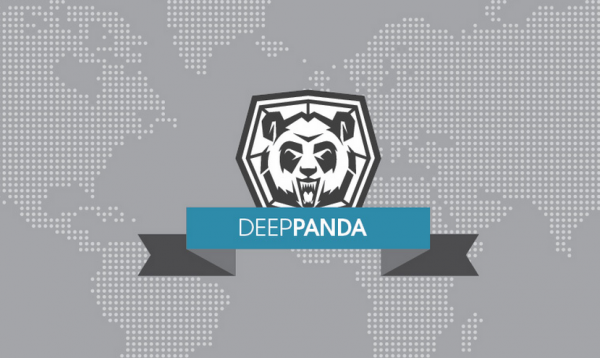 In its own writeup on Deep Panda from mid-2014, CrowdStrike notes that "for almost three years now, CrowdStrike has monitored DEEP PANDA targeting critical and strategic business verticals including: government, defense, financial, legal, and the telecommunications industries. At the think tanks, [we have] detected targeting of senior individuals involved in geopolitical policy issues, in particular in the China/Asia Pacific region. DEEP PANDA presents a very serious threat not just to think tanks, but also multinational financial institutions, law firms, defense contractors, and government agencies." Continue reading →