Microsoft is warning that hackers have ramped up attacks against an unpatched, critical security hole in computers powered by Windows XP and Server 2003 operating systems. The software giant says it is working on an official patch to fix the flaw, but in the meantime it is urging users to apply an interim workaround to disable the vulnerable component.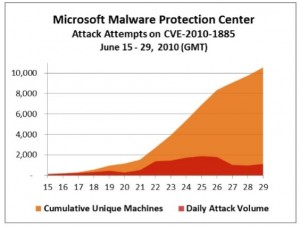 Redmond first warned of limited attacks against the vulnerability in mid-June, not long after a Google researcher disclosed the details of a flaw in the Microsoft Help & Support Center that can be used to remotely compromise affected systems. Last week, Microsoft said the pace of attacks against Windows users had picked up, and that more than 10,000 distinct computers have reported seeing this attack at least one time.
If you run either Windows XP or Server 2003, I'd encourage you to consider running Microsoft's stopgap "FixIt" tool to disable the vulnerable Help Center component. To do this, click this link, then click the "FixIt" button in the middle of the page under the "enable this fix" heading. Should you need to re-enable the component for any reason, click the other FixIt icon. Users who apply this fix don't need to undo it before applying the official patch once it becomes available, which at this rate probably will be on Tuesday, July 13.