The Obama administration is inviting leaders of the top Internet domain name registrars and registries to attend a three-hour meeting at the White House next month about voluntary ways to crack down on Web sites that are selling counterfeit prescription medications.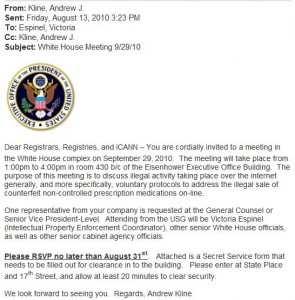 The invitation, sent via e-mail on Aug 13 by White House Senior Adviser for Intellectual Property Enforcement Andrew J. Klein, urges select recipients to attend a meeting on Sept. 29 with senior White House and cabinet officials, including Victoria Espinel, the Obama administration's intellectual property enforcement coordinator.
"The purpose of this meeting is to discuss illegal activity taking place over the internet generally, and more specifically, voluntary protocols to address the illegal sale of counterfeit non-controlled prescription medications on-line," the invitation states.
Klein did not return calls seeking more information. A spokeswoman for the White House Office of Management and Budget confirmed the event, but declined to offer further details. The meeting appears to be a continuation of the administration's Joint Strategic Plan on Intellectual Property Enforcement, an initiative unveiled in June that promised to "address unlawful activity on the internet, such as illegal downloading and illegal internet pharmacies."
According to the World Health Organization, approximately 8 percent of the bulk drugs imported into the United States are counterfeit, unapproved, or substandard, and 10 percent of global pharmaceutical commerce — or $21 billion — involves counterfeit drugs. LegitScript.com, a verification service for online pharmacies, is currently tracking more than 45,000 rogue Internet pharmacies.
A report (PDF) released in June by anti-spam and domain policy compliance group Knujon ("nojunk" spelled backwards) found that some 162 domain name registrars may be in breach of their contracts with the Internet Corporation for Assigned Names and Numbers (ICANN), the entity which oversees the registrar system. Many of the registrar violations named in that report were linked to rogue online pharmacies that are being advertised through spam and/or pharmacy affiliate programs like Glavmed and RX-Promotion — both affiliate networks that have been tied to botnet and cybercrime activity.