The Obama administration is inviting leaders of the top Internet domain name registrars and registries to attend a three-hour meeting at the White House next month about voluntary ways to crack down on Web sites that are selling counterfeit prescription medications.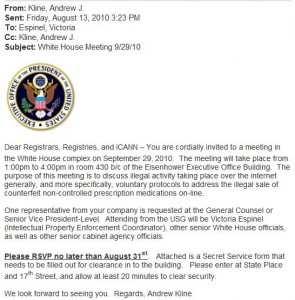 The invitation, sent via e-mail on Aug 13 by White House Senior Adviser for Intellectual Property Enforcement Andrew J. Klein, urges select recipients to attend a meeting on Sept. 29 with senior White House and cabinet officials, including Victoria Espinel, the Obama administration's intellectual property enforcement coordinator.
"The purpose of this meeting is to discuss illegal activity taking place over the internet generally, and more specifically, voluntary protocols to address the illegal sale of counterfeit non-controlled prescription medications on-line," the invitation states.