Oracle today released a critical update to its widely-installed Java software, fixing at least 29 security vulnerabilities in the program.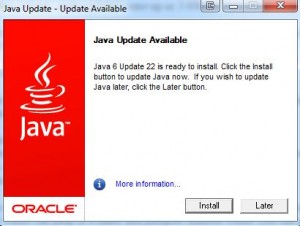 Most consumers on Microsoft Windows PCs will have some version of Java installed (if you're not sure whether you have Java or what version might be installed, click this link). Existing users can grab the latest version — Java 6 Update 22 — by visiting the Windows Control Panel, clicking on the Java icon, and then selecting the "Update Now" button on the "Update" tab. If you don't already have this software, I recommend that you keep it that way.
Per Oracle's advisory, updates are available for Windows, Solaris and Linux versions of Java. Apple maintains its own version of Java for OS X systems, and typically issues fixes for its version several months after the official Java release.
Be aware that Java's updater may by default also include free "extras" that you may not want, such as the Yahoo! Toolbar or whatever other moneymaker they decide to bundle with their software this time around, so be sure to de-select that check box during installation if you don't want the add-ons.