I often get emails from people asking if it's safe to download executable programs from peer-to-peer filesharing networks. I always answer with an emphatic "NO!," and the warning that pirated software and cracks — programs designed to generate product keys or serial numbers for popular software and games — are almost always bundled with some kind of malware. But I seldom come across more than anecdotal data that backs this up.
Recently, I heard from Alfred Huger, vice president of engineering at Immunet, an anti-virus company recently purchased by Sourcefire. Huger was reaching out to offer feedback on my 3 Rules for Online Safety post. He told me that the rules should have included this warning: Do not download pirated software and cracks from filesharing networks and cracks sites because they are a major source of malware infections.
I replied that people who knowingly engage in this type of risky behavior probably don't care much about my three rules, and that the advice was meant for people who were interested in learning how to stay safe online. But I was curious about his comment, and asked if he had data to support it. Huger said these types of infections were closely correlated with cases in which Immunet users opted to dispute its malware detection for specific files. Files that are "convicted" by anti-virus programs are considered malicious and are placed in a quarantine area on the user's system. But if users still want to access the file, or they don't believe or care that it's malicious, they can reverse or "roll back" that conviction.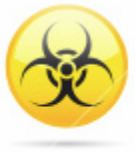 "A roll back to us is a file which we convicted but people disagreed with the conviction and rolled it out of quarantine," Huger said. "About 90% of the false positive roll backs I see which result in more than 10 convictions  — meaning more than 10 people rolled it back, turn out to be real malware. In almost every case when I can actually track down the user and ask why they rolled it back I am told it was a crack or pirated material of some type. They went looking for it and installed it.
As an example, Huger said that in the previous week, more than 100 Immunet users had rolled back infected files that install copies of the Conficker worm, among other malware.
"I am doing false positive management again this morning," Huger told me last week. "In the last 7 days 484 people in my community rolled this out from quarantine. It's frustrating to see because I know once they get infected it's going to be pure misery for them."
I hope it's clear from reading this post that downloading pirated software and software cracks is among the fastest and likeliest ways to infect your computer with something that ultimately hands control over of your PC to someone else.
Please add these to the  growing list of KrebsonSecurity Rules for Online Safety:
It is almost never safe to download executable programs from peer-to-peer file sharing networks because they are a major source of malware infections.