Adobe has shipped patches to fix a slew of critical security flaws in its products, including Flash, Shockwave Player and Adobe AIR.

The Flash update corrects at least 13 critical vulnerabilities present in versions 10.3.181.36 and earlier for Windows, Mac, Linux and Solaris machines (the bugs exist in Flash versions 10.3.185.25 and earlier for Android devices). Windows, Mac, Linux and Solaris users should upgrade to version 10.3.183.5, and Android users should update to v. 10.3.186.2.
To find out which version of Flash you have, visit this page. Windows users who browse the Web with anything other than Internet Explorer will need to apply the Flash update twice, once using IE and again with the other browser (Google Chrome users should already have the latest version of Flash). To avoid using Adobe's annoying Download Manager, IE users can grab the latest update directly from this link; the direct link for non-IE browsers is here.
The same flaws exist in Adobe AIR for Windows, Mac and Android. Using an application that requires Adobe AIR (Tweetdeck or Pandora, for example) should prompt you to update to the latest version, AIR 2.7.1. If you don't see a prompt to update the program, the latest version of AIR is available here.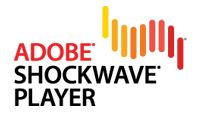 Adobe also shipped an update to its Shockwave Player that fixes at least seven critical vulnerabilities in the media player program. Adobe is urging users of Adobe Shockwave Player 11.6.0.626 and earlier  update to Adobe Shockwave Player 11.6.1.629.
I should note that you may not have or want Shockwave installed. I haven't had it on my Firefox installation for some time now and don't seem to have missed it. I'm sure it has its uses, but to me Shockwave is just another Adobe program that requires constant care and feeding. What's more, it demands two separate installation procedures for IE and non-IE browsers.
To test whether you have Shockwave installed, visit this page; if you see an animation, it's time to update. If you see a prompt to install Shockwave, there is no need to install it. Mozilla Firefox users without Shockwave Player installed may still see "Shockwave Flash" listed in the "Plugins" directory of the browser; this merely indicates that the user has Adobe's Flash Player installed.