If you use Windows or Adobe Reader/Acrobat, it's patch time. Microsoft released five updates to fix at least 15 security vulnerabilities, and Adobe issued a quarterly update to eliminate 13 security flaws in its PDF Reader and Acrobat products.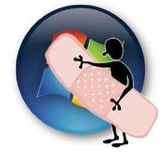 The Microsoft patches, available via Windows Update and Automatic Update, address security holes in Excel, Office, Windows Server and SharePoint. None of the flaws earned Redmond's most dire "critical" rating, but it's a mistake to let too much time go by before installing these updates.
Adobe's patches for Reader and Acrobat correct critical vulnerabilities in the programs that could be exploited by attackers just by convincing users to open a booby-trapped file. Updates are available for Adobe Reader X (10.1) and earlier versions for Windows, Macintosh, Adobe Reader 9.4.2 and earlier versions for UNIX, and Adobe Acrobat X (10.1) and earlier versions for Windows and Macintosh.
Acrobat users should check out the Adobe security advisory. Heads up for users of older versions of Reader and Acrobat: support for Adobe Reader 8.x and Acrobat 8.x for Windows and Macintosh will end on November 3, 2011.
As always, please leave a note in the comments section below if you experience any issues resulting from the installation of these updates.