This blog has featured several stories on reshipping scams, which recruit willing or unwitting U.S. citizens ("mules") to reship abroad pricey items that are paid for with stolen credit cards. Today's post highlights a critical component of this scheme: the black-market sale of international shipping labels fraudulently purchased from the U.S. Postal Service.
USPS labels that are purchased via card fraud, known in the Underweb as simply "cc labels," are an integral part of any reshipping scheme. So it should be no surprise that the leading proprietors in this obscure market run Atlanta Alliance, one of the largest and most established criminal reshipping rackets in the underground.
The service, at fe-ccshop.com, makes it simple for any reshipping scam operator to purchase international shipping labels at a fraction of their actual cost. For example, USPS Express Mail International labels for items 20 pounds or less that are headed from the United States to Russia start at about $75, but this service sells them for just $14. The same label for an item that weighs 25 pounds would cost upwards of $150 at the Post Office, but can be had through this service for just $19.
Customers fund their accounts with a virtual currency such as Liberty Reserve, and then enter the reshipping mule's address in the "from" section and the fraudster's in the "to:" field. Clicking the "make label" button causes the label to be paid for with a stolen credit card, and lets the customer print or save digital images of usable and new USPS international shipping labels.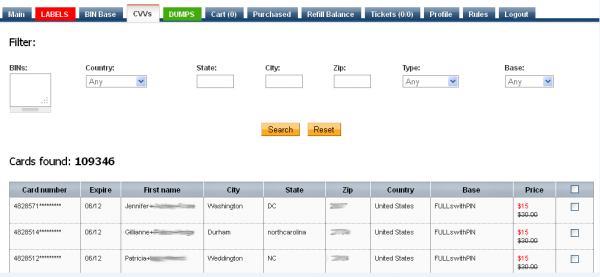 The carded labels service is sold as a component of a larger shop that is currently peddling more than 100,000 stolen credit and debit card numbers (see above).
Another carded labels service run by one of the leading members of the Russian hacker forum lampeduza.org offers its own reshipping service, as well as USPS labels, at similar pricing. The proprietors of this service also market a panoply of other hacking and malware design services, described in the following ad, which runs on the site's home page after users log in: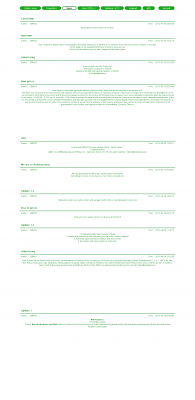 "Dear Friends! We are Glad to offer you Service on development of Systems of any Complexity.
Our Experts are using the following products:
Programming: C, C + +,. NET (C #), PHP, Perl, Python, Ruby, Java, Scala.
Databases: mySQL, pgSQL, mongodb, sqlite, couchdb
OS: Windows, linux, BSD
Preferable directions: Web Services, bots /botnets, parsers, emulators, Spam, flood. Expensively, anonymously, qualitatively. Work on 30% -50% for an advance Payment (to Webmoney, LibertyReserve, wire)."