On Thursday, the world learned that attackers were breaking into computers using a previously undocumented security hole in Java, a program that is installed on hundreds of millions of computers worldwide. This post aims to answer some of the most frequently asked questions about the vulnerability, and to outline simple steps that users can take to protect themselves.
Update, Jan. 13, 8:14 p.m. ET: Oracle just released a patch to fix this vulnerability. Read more here.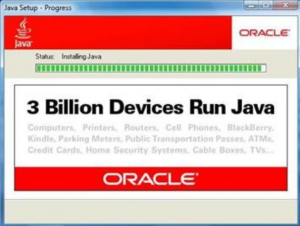 Q: What is Java, anyway?
A: Java is a programming language and computing platform that powers programs including utilities, games, and business applications. According to Java maker Oracle Corp., Java runs on more than 850 million personal computers worldwide, and on billions of devices worldwide, including mobile and TV devices. It is required by some Web sites that use it to run interactive games and applications.
Q: So what is all the fuss about?
A: Researchers have discovered that cybercrooks are attacking a previously unknown security hole in Java 7 that can be used to seize control over a computer if a user visits a compromised or malicious Web site.
Q: Yikes. How do I protect my computer?
A: The version of Java that runs on most consumer PCs includes a browser plug-in. According to researchers at Carnegie Mellon University's CERT, unplugging the Java plugin from the browser essentially prevents exploitation of the vulnerability. Not long ago, disconnecting Java from the browser was not straightforward, but with the release of the latest version of Java 7 — Update 10 — Oracle included a very simple method for removing Java from the browser. You can find their instructions for doing this here.
Q: How do I know if I have Java installed, and if so, which version?
A: The simplest way is to visit this link and click the "Do I have Java" link, just below the big red "Download Java" button.
Q: I'm using Java 6. Does that mean I don't have to worry about this?
A: There have been conflicting findings on this front. The description of this bug at the National Vulnerability Database (NVD), for example, states that the vulnerability is present in Java versions going back several years, including version 4 and 5. Analysts at vulnerability research firm Immunity say the bug could impact Java 6 and possibly earlier versions. But Will Dormann, a security expert who's been examining this flaw closely for CERT, said the NVD's advisory is incorrect: CERT maintains that this vulnerability stems from a component that Oracle introduced  with Java 7. Dormann points to a detailed technical analysis of the Java flaw by Adam Gowdiak of Security Explorations, a security research team that has alerted Java maker Oracle about a large number of flaws in Java. Gowdiak says Oracle tried to fix this particular flaw in a previous update but failed to address it completely.
Either way, it's important not to get too hung up on which versions are affected, as this could become a moving target. Also, a new zero-day flaw is discovered in Java several times a year. That's why I've urged readers to either uninstall Java completely or unplug it from the browser no matter what version you're using.
Q: A site I use often requires the Java plugin to be enabled. What should I do?
A: You could downgrade to Java 6, but that is not a very good solution. Oracle will stop supporting Java 6 at the end of February 2013, and will soon be transitioning Java 6 users to Java 7 anyway. If you need Java for specific Web sites, a better solution is to adopt a two-browser approach. If you normally browse the Web with Firefox, for example, consider disabling the Java plugin in Firefox, and then using an alternative browser (Chrome, IE9, Safari, etc.) with Java enabled to browse only the site(s) that require(s) it.
Q: I am using a Mac, so I should be okay, right?
A: Not exactly. Experts have found that this flaw in Java 7 can be exploited to foist malware on Mac and Linux systems, in addition to Microsoft Windows machines. Java is made to run programs across multiple platforms, which makes it especially dangerous when new flaws in it are discovered. For instance, the Flashback worm that infected more than 600,000 Macs wiggled into OS X systems via a Java flaw. Oracle's instructions include advice on how to unplug Java from Safari. I should note that Apple has not provided a version of Java for OS X beyond 6, but users can still download and install Java 7 on Mac systems. However, it appears that in response to this threat, Apple has taken steps to block Java from running on OS X systems.
Q: I don't browse random sites or visit dodgy porn sites, so I shouldn't have to worry about this, correct?
A: Wrong. This vulnerability is mainly being exploited by exploit packs, which are crimeware tools made to be stitched into Web sites so that when visitors come to the site with vulnerable/outdated browser plugins (like this Java bug), the site can silently install malware on the visitor's PC. Exploit packs can be just as easily stitched into porn sites as they can be inserted into legitimate, hacked Web sites. All it takes is for the attackers to be able to insert one line of code into a compromised Web site.
Q: I've read in several places that this is the first time that the U.S. government has urged computer users to remove or wholesale avoid using a particular piece of software because of a widespread threat. Is this true?
A: Not really. During previous high-alert situations, CERT has advised Windows users to avoid using Internet Explorer. In this case, CERT is not really recommending that users uninstall Java: just that users unplug Java from their Web browser.
Q: I'm pretty sure that my Windows PC has Java installed, but I can't seem to locate the Java Control Panel from the Windows Start Menu or Windows Control Panel. What gives?
A: According to CERT's Dormann, due to what appears to potentially be a bug in the Java installer, the Java Control Panel applet may be missing on some Windows systems. In such cases, the Java Control Panel applet may be launched by finding and executing javacpl.exe manually. This file is likely to be found in C:\Program Files\Java\jre7\bin  or  C:\Program Files (x86)\Java\jre7\bin.
Q: I can't remember the last time I used Java, and it doesn't look like I even need this program anymore. Should I keep it?
A: Java is not as widely used as it once was, and most users probably can get by without having the program installed at all. I have long recommended that users remove Java unless they have a specific use for it. If you discover later that you really do need Java, it is trivial and free to reinstall it.
Q: This is all well and good advice for consumers, but I manage many PCs in a business environment. Is there a way to deploy Java but keep the plugin disconnected from the browser? 
A: CERT advises that system administrators wishing to deploy Java 7 Update 10 or later with the "Enable Java content in the browser" feature disabled can invoke the Java installer with the WEB_JAVA=0 command-line option. More details are available in the Java documentation.
Q: Okay, I think I'm covered on Java. But what about Javascript?
A: Because of the unfortunate similarity of their names, many people confuse Java with Javascript. But these are two completely different things. Most Web sites use JavaScript, a powerful scripting language that helps make sites interactive. Unfortunately, a huge percentage of Web-based attacks use JavaScript tricks to foist malicious software and exploits onto site visitors. To protect yourself, it is critically important to have an easy method of selecting which sites should be allowed to run JavaScript in the browser. It is true that selectively allowing JavaScript on known, "safe" sites won't block all malicious scripting attacks: Even legitimate sites sometimes end up running malicious code when scammers figure out ways to sneak tainted, bogus ads into the major online ad networks. But disallowing JavaScript by default and selectively enabling it for specific sites remains a much safer option than letting all sites run JavaScript unrestricted all the time.
Firefox has many extensions and add-ons that make surfing the Web a safer experience. One extension that I have found indispensable is NoScript. This extension lets the user decide which sites should be allowed to run JavaScript, including Flash Player content. Users can choose to allow specific exceptions either permanently or for a single browsing session.
Chrome also includes similar script- and Flash blocking functionality that seems designed to minimize some of these challenges by providing fewer options. If you tell Chrome to block JavaScript on all sites by default, when you browse to a site that uses JavaScript, the upper right corner of the browser displays a box with a red "X" through it. If you click that and select "Always allow JavaScript on [site name]" it will permanently enable JavaScript for that site, but it doesn't give you the option to block third-party JavaScript content on the site as Noscript does. In my testing, I had to manually refresh the page before Chrome allowed scripting on a site that I'd just whitelisted. In addition, there is a very handy add-on for Chrome called NotScripts that works very much like Noscript.
Selectively script blocking can take some getting used to. Most script-blocking add-ons will disable scripting by default on Web sites that you have not added to your trusted list. In some cases, it may take multiple tries to get a site that makes heavy use of Javascript to load properly.
Internet Explorer allows users to block scripts, but even the latest version of IE still doesn't give the user much choice in handling JavaScript. In IE9, you can select among JavaScript on, off, or prompting you to load JavaScript. Turning JavaScript off isn't much of an option, but leaving it completely open is unsafe. Choosing the "Prompt" option does nothing but serve incessant pop-up prompts to allow or disallow scripts (see the video below). The lack of a simpler approach to script blocking in IE is one of the main reasons I continue to steer readers toward Firefox and Chrome.