I was fortunate to spend several hours this past week with two reporters whose work I admire. Both wanted to learn more about my job as an independent investigative reporter. Their stories about my story are below.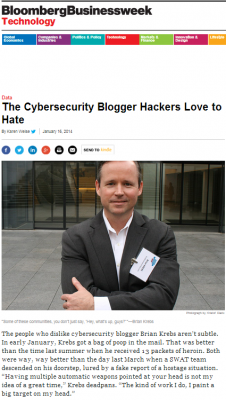 Mark Stencel, a former colleague at Washingtonpost.com who similarly worked his way up from an entry-level job at the publication, wanted to hear about the challenges and rewards of going solo. Stencel's piece, Reporter Brian Krebs Hacks it on His Own, One Scoop at a time, was written for poynter.org, an online publication for and about journalists.
Stencel writes:
"All of this reporting pays off with loyal readers, even at companies who fear finding themselves covered on his site. "As someone who does payment card security for a brick and mortar retailer, 'Brian Krebs' is a name I never ever want to see flash across my Caller ID," one admirer wrote in a recent reader comment."
Separately, I spent half a day with with Business Week reporter Karen Weise, whose profile, The Cybersecurity Blogger Hackers Love to Hate, appears in this coming week's print edition. Weise observes:
"Krebs's talent for exposing the weaknesses in online security has earned him respect in the IT business and loathing among cybercriminals. His track record of scoops, including the Dec. 18 revelation that hackers stole tens of millions of customers' financial data from Target (TGT), has helped him become the rare blogger who supports himself on the strength of his reputation for hard-nosed reporting."
My favorite part of both these stories are the observations from readers. For instance, Weise quoted Lance James, head of intelligence at Deloitte, with whom I co-presented last year at the Black Hat conference in Las Vegas.
"No intelligence agency could get as much as Brian Krebs does," BW quotes James as saying. "Everybody wants to share with him."
Fortunately, that's very true: Key information that informs some of my best scoops is just as likely to come from people actively engaged in cybercrime as it is industry experts working to fight fraud. So, once again, a sincere thank you to all of my readers — lovers and haters alike.