I've long recommended that small business owners and others concerned about malware-driven bank account takeovers consider adopting a "Live CD" solution, which is a free and relatively easy way of temporarily converting your Windows PC into a Linux operating system. The trouble with many of these Live CD solutions is that they require a CD player (something many laptops no longer have) — but more importantly – they don't play well with wireless access. Today's post looks at an alternative that addresses both of these issues.
As I noted in my 2012 column, "Banking on a Live CD," the beauty of the "Live CD" approach is that it allows you to safely bank online from any machine — even from a system that is already riddled with malware. That's because it lets you boot your existing PC into an entirely different (read: non-Windows) operating system. [Not sure why you should consider banking online from a non-Windows PC? Check out this series].
The device I'll be looking at today is not free, nor is the the tiny dongle that enables its ability to be used on a wireless network. Nor is it an actual CD or anything more than a stripped-down Web browser. But it is one of the safest, most easy-to-use solutions I've seen yet.
The device, called ZeusGard, is a small, silver USB flash drive that boots into a usable browser within about 30 seconds after starting the machine. The non-writeable drive boots directly into the browser (on top of Debian Linux), and if your system is hard-wired to your router with an Ethernet connection, you should be good to go.
Nearly all Live CD solution have one glaring weakness: They typically are not usable over a wireless connection. The Live CD solution I most frequently recommend — which is based on a version of Puppy Linux — technically can work with wireless networks, but I found that setting it up is not at all intuitive, especially for people who've never used anything but Windows before.
My review copy of ZeusGard came with a tiny USB wireless Wi-Fi adapter, which makes jumping on a wireless network a complete breeze. When you boot up with both ZeusGard and the adapter plugged in, ZeusGard automatically searches for available wireless networks, and asks you to choose yours from a list of those in range.
Assuming access to your wireless network is secured with WPA/WPA2  (hopefully not the weaker WEP) , click the "properties" box next to your network, and enter your network's encryption key (if you need to see the key in plain text while you're typing, tick the box next to "key"). Hit "OK" and then the "Connect" button. Once you're connected, click the down arrow at the top of the dialog box and select "Exit to Browser Session."
This is the second generation of ZeusGard, and I'm looking forward to seeing the next iteration of the device. ZeusGard is produced by Bancsec, a consulting firm that advises financial institutions on ways to beef up security (think Sneakers). Bancsec CEO J.B. Snyder said the next version should include a streamlined wireless setup, and will offer users more options inside the browser session (in the version I tested, for example, ZeusGard automatically shuts down after 30 minutes of use).
At $24.95 for the basic ZeusGard and $14.95 for the wireless adapter, this device is likely to be more appealing to small businesses than the average Internet user. But if you need or want wireless capability in a USB-based "Live CD" solution, ZeusGard is one of few easy-to-use options currently available.
To get ZeusGard working on a Mac, hold the "Option" key while booting up, and select the volume labeled "Windows" (yes, I realize this is counter-intuitive, since the whole idea behind booting into a live CD is that you're not in Windows).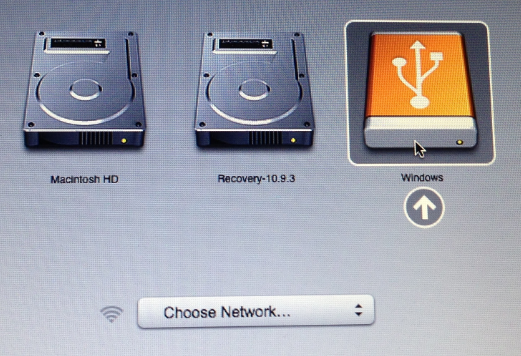 Getting ZeusGard (or any other live distribution, for that matter) working on a Windows PC may be a bit more involved. Rather than reinvent the wheel, I've excerpted and modified the following instructions from my Banking on a Live CD post.
We next need to make sure that the computer knows to look to the USB drive first for a bootable operating system before it checks the hard drive, otherwise ZeusGard will never be recognized by the computer (this only needs to be done once). When you start up your PC, take note of the text that flashes on the screen, and look for something that says "Press [some key] to enter setup" or "Press [some key] to enter startup." Usually, the key you want will be F2 or the Delete or Escape (Esc) key.
When you figure out what key you need to press, press it repeatedly until the system BIOS screen is displayed. Your mouse probably will not work here, so you'll need to rely on your keyboard. Look at the menu options at the top of the screen, and you should notice a menu named "Boot". Hit the right arrow key until you've reached that screen listing your bootable devices, and then hit the Enter key What you want to do here is move the Removable Devices option to the top of the list (it may be listed as merely "Removable Dev"). Do this by selecting the down-arrow key until that option is highlighted, and then press the Shift and the "+" key on your keyboard until the Removable Devices option is at the top. Then hit the F10 key, and confirm "yes" when asked if you want to save changes and exit, and the computer should reboot.
Unless you know what you're doing here, it's important not to make any other changes in the BIOS settings. If you accidentally do make a change that you want to undo, hit F10, and select the option "Exit without saving changes." The computer will reboot, and you can try this step again.
If you've done this step correctly, the computer should detect the USB drive as a bootable operating system, and boot into ZeusGard.