"Please note that [COMPANY NAME] takes the security of your personal data very seriously." If you've been on the Internet for any length of time, chances are very good that you've received at least one breach notification email or letter that includes some version of this obligatory line. But as far as lines go, this one is about as convincing as the classic break-up line, "It's not you, it's me."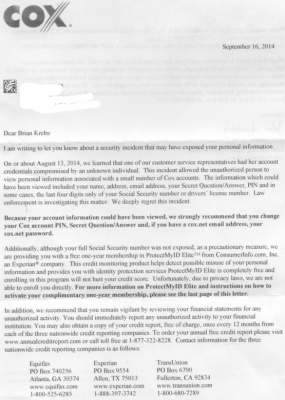 I was reminded of the sheer emptiness of this corporate breach-speak approximately two weeks ago, after receiving a snail mail letter from my Internet service provider — Cox Communications. In its letter, the company explained:
"On or about Aug. 13, 2014, "we learned that one of our customer service representatives had her account credentials compromised by an unknown individual. This incident allowed the unauthorized person to view personal information associated with a small number of Cox accounts. The information which could have been viewed included your name, address, email address, your Secret Question/Answer, PIN and in some cases, the last four digits only of your Social Security number or drivers' license number."
The letter ended with the textbook offer of free credit monitoring services (through Experian, no less), and the obligatory "Please note that Cox takes the security of your personal data very seriously." But I wondered how seriously they really take it. So, I called the number on the back of the letter, and was directed to Stephen Boggs, director of public affairs at Cox.
Boggs said that the trouble started after a female customer account representative was "socially engineered" or tricked into giving away her account credentials to a caller posing as a Cox tech support staffer. Boggs informed me that I was one of just 52 customers whose information the attacker(s) looked up after hijacking the customer service rep's account.
The nature of the attack described by Boggs suggested two things: 1) That the login page that Cox employees use to access customer information is available on the larger Internet (i.e., it is not an internal-only application); and that 2) the customer support representative was able to access that public portal with nothing more than a username and a password.
Boggs either did not want to answer or did not know the answer to my main question: Were Cox customer support employees required to use multi-factor or two-factor authentication to access their accounts? Boggs promised to call back with an definitive response. To Cox's credit, he did call back a few hours later, and confirmed my suspicions.
"We do use multifactor authentication in various cases," Boggs said. "However, in this situation there was not two-factor authentication. We are taking steps based on our investigation to close this gap, as well as to conduct re-training of our customer service representatives to close that loop as well."
This sad state of affairs is likely the same across multiple companies that claim to be protecting your personal and financial data. In my opinion, any company — particularly one in the ISP business — that isn't using more than a username and a password to protect their customers' personal information should be publicly shamed.
Unfortunately, most companies will not proactively take steps to safeguard this information until they are forced to do so — usually in response to a data breach.  Barring any pressure from Congress to find proactive ways to avoid breaches like this one, companies will continue to guarantee the security and privacy of their customers' records, one breach at a time.