Google this week made it easier for Android users to enable strong 2-factor authentication (2FA) when logging into Google's various services. The company announced that all phones running Android 7.0 and higher can now be used as Security Keys, an additional authentication layer that helps thwart phishing sites and password theft.
As first disclosed by KrebsOnSecurity last summer, Google maintains it has not had any of its 85,000+ employees successfully phished on their work-related accounts since early 2017, when it began requiring all employees to use physical Security Keys in place of passwords and one-time codes.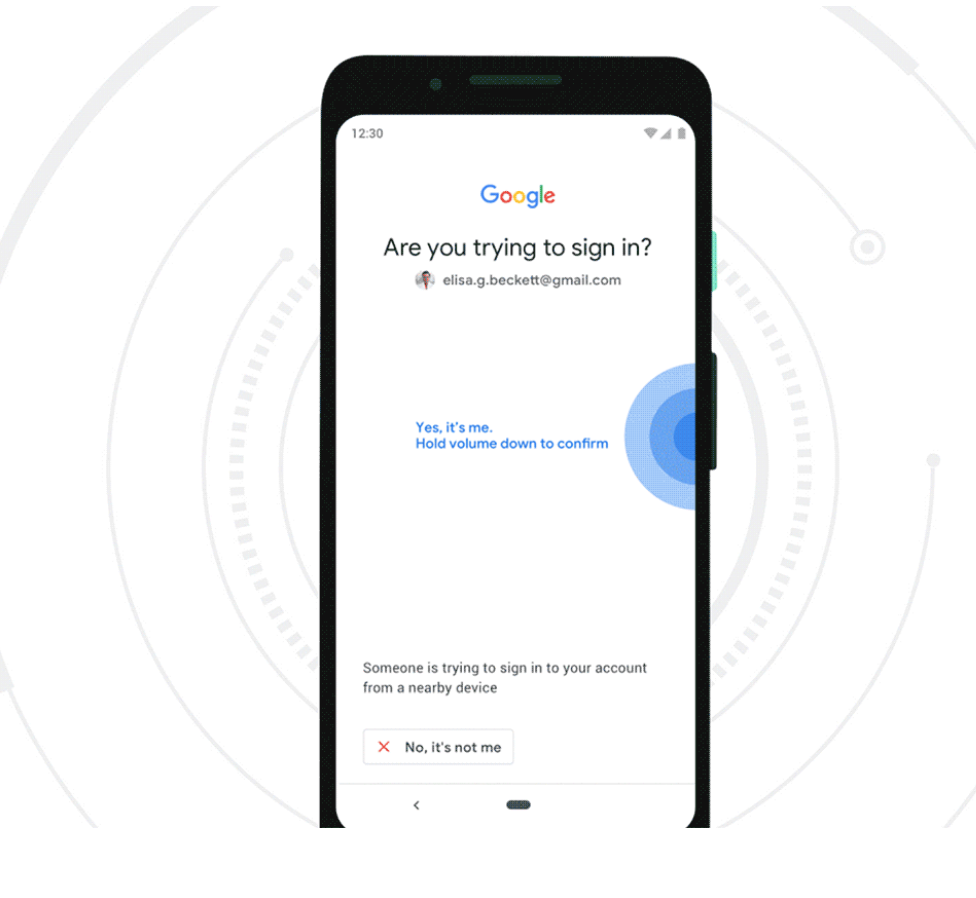 The most commonly used Security Keys are inexpensive USB-based devices that offer an alternative approach to 2FA, which requires the user to log in to a Web site using something they know (the password) and something they have (e.g. a one-time token, key fob or mobile device).
But Google said starting this week, any mobile phone running Android 7.0+ (Nougat) can serve the same function as a USB-based security key. Once a user has enrolled their Android phone as a Security Key, the user will need to approve logins via a prompt sent to their phone after submitting their username and password at a Google login page.
Many readers have expressed confusion or skepticism about how Security Keys can prevent users from getting hooked by phishing sites or clever man-in-the-middle attacks. This capability was described in far greater visual detail in this video last year by Christiaan Brand, product manager at Google Cloud.
But the short version is that even if a user who has enrolled a Security Key for authentication tries to log in at a site pretending to be Google, the company's systems simply refuse to request the Security Key if the user isn't on an official Google site, and the login attempt fails.
"It puts you in this mode….[in] which is there is no other way to log in apart from the Security Key," Brand said. "No one can trick you into a downgrade attack, no one can trick you into anything different. You need to provide a security key or you don't get into your account."
Google says built-in security keys are available on phones running Android 7.0+ (Nougat) with Google Play Services, enabling existing phones to act as users' primary 2FA method for work (G Suite, Cloud Identity, and GCP) and personal Google accounts to sign in on a Bluetooth-enabled Chrome OS, macOS X, or Windows 10 device with a Chrome browser.
The basic idea behind two-factor authentication (Google calls it "two step verification" or 2SV) is that even if thieves manage to phish or steal your password, they still cannot log in to your account unless they also hack or possess that second factor.
The most common forms of 2FA require the user to supplement a password with a one-time code sent to their mobile device via an app (like Authy or Google Authenticator), text message, or an automated phone call. But all of these methods are susceptible to interception by various attacks.
For example, thieves can intercept that one-time code by tricking your mobile provider into either swapping your mobile device's SIM card or "porting" your mobile number to a different device.
A Security Key implements a form of multi-factor authentication known as Universal 2nd Factor (U2F), which allows the user to complete the login process simply by inserting the USB device and pressing a button on the device. The key works without the need for any special software drivers.
Probably the most popular maker of Security Keys is Yubico, which sells a basic U2F key for $20 (it offers regular USB versions as well as those made for devices that require USB-C connections, such as Apple's newer Mac OS systems). Yubikey also sells more expensive U2F keys designed to work with mobile devices.
A number of high-profile sites now allow users to enroll their accounts with USB- or Bluetooth-based Security Keys, including Dropbox, Facebook, Github and Twitter. If you decide to use Security Keys with your account, it's a good idea to register a backup key and keep it in a safe place, so you can still get into your account if you loose your initial key (or phone, in Google's case).
To be sure you're using the most robust forms of authentication at sites you entrust with sensitive data, spend a few minutes reviewing the options at 2fa.directory, which maintains probably the most comprehensive list of which sites support 2FA, indexing each by type of site (email, gaming, finance, etc) and the type of 2FA offered (SMS, phone call, software token, etc.).
Please bear in mind that if the only 2FA options offered by a site you frequent are SMS and/or phone calls, this is still better than simply relying on a password to secure your account.
I should also note that Google says Android 7.0+ phones also can be used as the Security Key for people who have adopted the company's super-paranoid Advanced Protection option. This is a far more stringent authentication process for Google properties designed specifically for users who are most likely to be targeted by sophisticated attacks, such as journalists, activists, business leaders and political campaigns.
I've had Advanced Protection turned on since shortly after Google made it available. It wasn't terribly difficult to set up, but it's probably not for your casual user. For one thing, it requires users to enroll two security keys, and in the event the user loses both of those keys, Google may take days to validate your request and grant you access to your account.