One frustrating aspect of email phishing is the frequency with which scammers fall back on tried-and-true methods that really have no business working these days. Like attaching a phishing email to a traditional, clean email message, or leveraging link redirects on LinkedIn, or abusing an encoding method that makes it easy to disguise booby-trapped Microsoft Windows files as relatively harmless documents.
KrebsOnSecurity recently heard from a reader who was puzzled over an email he'd just received saying he needed to review and complete a supplied W-9 tax form. The missive was made to appear as if it were part of a mailbox delivery report from Microsoft 365 about messages that had failed to deliver.
The reader, who asked to remain anonymous, said the phishing message contained an attachment that appeared to have a file extension of ".pdf," but something about it seemed off. For example, when he downloaded and tried to rename the file, the right arrow key on the keyboard moved his cursor to the left, and vice versa.
The file included in this phishing scam uses what's known as a "right-to-left override" or RLO character. RLO is a special character within unicode — an encoding system that allows computers to exchange information regardless of the language used — that supports languages written from right to left, such as Arabic and Hebrew.
Look carefully at the screenshot below and you'll notice that while Microsoft Windows says the file attached to the phishing message is named "lme.pdf," the full filename is "fdp.eml" spelled backwards. In essence, this is a .eml file — an electronic mail format or email saved in plain text — masquerading as a .PDF file.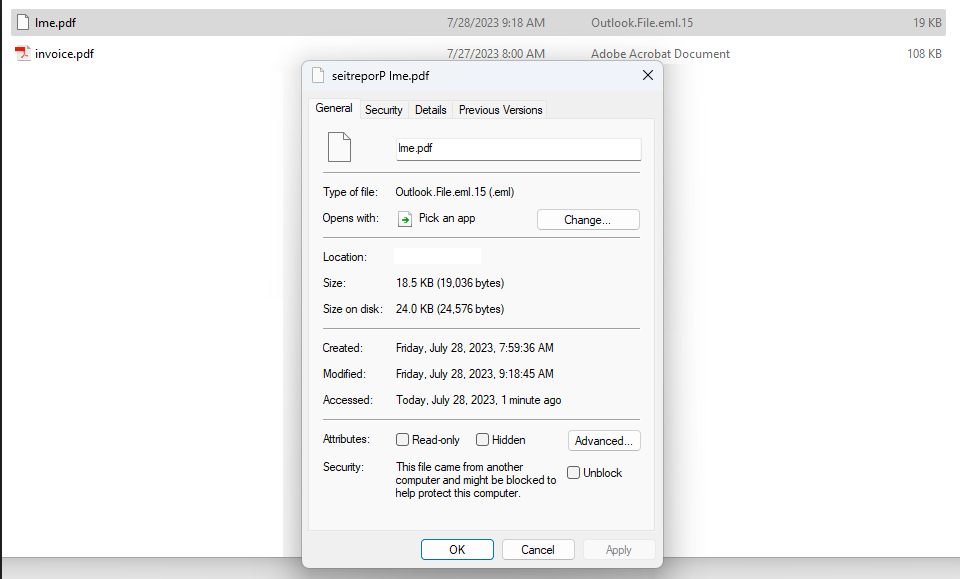 "The email came through Microsoft Office 365 with all the detections turned on and was not caught," the reader continued. "When the same email is sent through Mimecast, Mimecast is smart enough to detect the encoding and it renames the attachment to '___fdp.eml.' One would think Microsoft would have had plenty of time by now to address this."
Indeed, KrebsOnSecurity first covered RLO-based phishing attacks back in 2011, and even then it wasn't a new trick.
Opening the .eml file generates a rendering of a webpage that mimics an alert from Microsoft about wayward messages awaiting restoration to your inbox. Clicking on the "Restore Messages" link there bounces you through an open redirect on LinkedIn before forwarding to the phishing webpage.
As noted here last year, scammers have long taken advantage of a marketing feature on the business networking site which lets them create a LinkedIn.com link that bounces your browser to other websites, such as phishing pages that mimic top online brands (but chiefly Linkedin's parent firm Microsoft).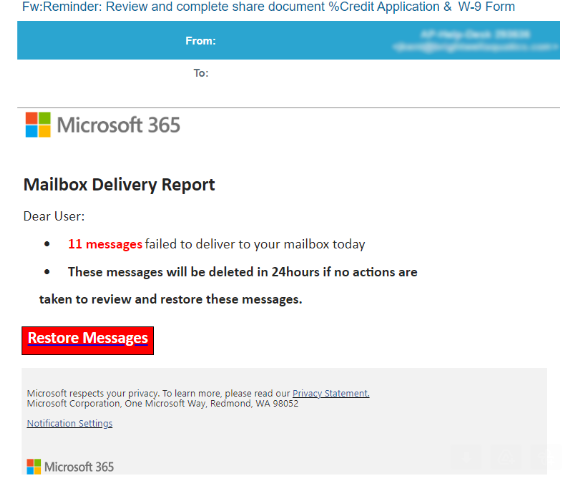 The landing page after the LinkedIn redirect displays what appears to be an Office 365 login page, which is naturally a phishing website made to look like an official Microsoft Office property.
In summary, this phishing scam uses an old RLO trick to fool Microsoft Windows into thinking the attached file is something else, and when clicked the link uses an open redirect on a Microsoft-owned website (LinkedIn) to send people to a phishing page that spoofs Microsoft and tries to steal customer email credentials.
According to the latest figures from Check Point Software, Microsoft was by far the most impersonated brand for phishing scams in the second quarter of 2023, accounting for nearly 30 percent of all brand phishing attempts.
An unsolicited message that arrives with one of these .eml files as an attachment is more than likely to be a phishing lure. The best advice to sidestep phishing scams is to avoid clicking on links that arrive unbidden in emails, text messages and other mediums. Most phishing scams invoke a temporal element that warns of dire consequences should you fail to respond or act quickly.
If you're unsure whether a message is legitimate, take a deep breath and visit the site or service in question manually — ideally, using a browser bookmark to avoid potential typosquatting sites.