T-Mobile, AT&T and other mobile carriers are reminding customers to take advantage of free services that can block identity thieves from easily "porting" your mobile number out to another provider, which allows crooks to intercept your calls and messages while your phone goes dark. Tips for minimizing the risk of number porting fraud are available below for customers of all four major mobile providers, including Sprint and Verizon.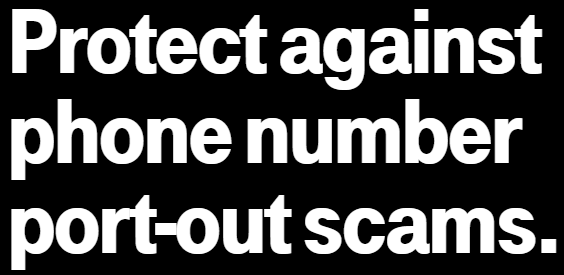 Unauthorized mobile phone number porting is not a new problem, but T-Mobile said it began alerting customers about it earlier this month because the company has seen a recent uptick in fraudulent requests to have customer phone numbers ported over to another mobile provider's network.
"We have been alerting customers via SMS that our industry is experiencing a phone number port out scam that could impact them," T-Mobile said in a written statement. "We have been encouraging them to add a port validation feature, if they've not already done so."
Crooks typically use phony number porting requests when they have already stolen the password for a customer account (either for the mobile provider's network or for another site), and wish to intercept the one-time password that many companies send to the mobile device to perform two-factor authentication.
Porting a number to a new provider shuts off the phone of the original user, and forwards all calls to the new device. Once in control of the mobile number, thieves can request any second factor that is sent to the newly activated device, such as a one-time code sent via text message or or an automated call that reads the one-time code aloud.
In these cases, the fraudsters can call a customer service specialist at a mobile provider and pose as the target, providing the mark's static identifiers like name, date of birth, social security number and other information. Often this is enough to have a target's calls temporarily forwarded to another number, or ported to a different provider's network.
"Port out fraud has been an industry problem for a long time, but recently we've seen an uptick in this illegal activity," T-Mobile said.  "We're not providing specific metrics, but it's been enough that we felt it was important to encourage customers to add extra security features to their accounts."
In a blog post published Tuesday, AT&T said bad guys sometimes use illegal porting to steal your phone number, transfer the number to a device they control and intercept text authentication messages from your bank, credit card issuer or other companies.
"You may not know this has happened until you notice your mobile device has lost service," reads a post by Brian Rexroad, VP of security relations at AT&T. "Then, you may notice loss of access to important accounts as the attacker changes passwords, steals your money, and gains access to other pieces of your personal information."
Rexroad says in some cases the thieves just walk into an AT&T store and present a fake ID and your personal information, requesting to switch carriers. Porting allows customers to take their phone number with them when they change phone carriers.
The law requires carriers to provide this number porting feature, but there are ways to reduce the risk of this happening to you. Continue reading →