Recently I came into possession of a series of documents showing the financial books of an organization that orchestrates the distribution of rogue anti-virus attacks or "scareware," programs that hijack victim PCs with misleading security alerts in an effort to frighten the user into purchasing worthless security software. I found many interesting details in this data cache, but one pattern in the data explains why scareware continues to be a major scourge: Relatively few people victimized by it dispute the transaction with their bank.
The documents list the amounts charged to more than 2,000 people around the world (the screen shots show the distribution of victims globally and in the United States). Victims paid anywhere from $50 to $100 for the fake anti-virus software. The file lists the amounts charged, partially obscured credit card numbers, and the names, addresses and e-mails of all victims.
More importantly, they show that only 367 victims — fewer than 20 percent — bothered to contact their bank or the scammers to reverse the fraudulent charges after the fact.
A second wave of attacks apparently conducted by the same malware gang in early April shows that only 163 out of 1,678 victims – fewer than 10 percent — initiated chargebacks or disputed the sales (the geographic distribution of victims of this second wave is not included in the Google Maps graphics shown here).
I interviewed more than a dozen victims of the first scareware attack, which occurred between April 12 and April 15. All said their computers became unusable and that the only way they could figure out how to regain control of the machine was to surrender and purchase the software. In each case, immediately after the victims submitted their payment information, the hijacking program disappeared, leaving no trace of itself, and no hint of any fake security program on the victim's machine.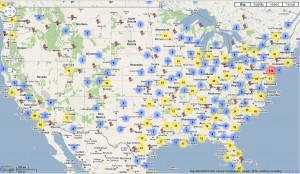 Some victims reported receiving a follow-up e-mail thanking them for their purchase, and directing support inquiries to support@browsing-solutions.com. Others never got an e-mail, but only saw a charge on their credit card statement from Browsing Solutions, Moscow. Other victims saw charges from an EBD-Software.com.
None of the victims I was able to track down had successfully reversed the charges with their credit card provider, although a few did have the charges canceled after contacting the phone number listed in the customer support e-mail. Some said they had tried to contact their credit card provider or the scam company but got the runaround and simply gave up; others said they were confused because they were in the process of trying to purchase legitimate anti-virus software when their computers were hijacked.