Several sources in the financial industry say they are seeing a spike in fraud on customer cards used at ATMs in Mexico. The reason behind that apparent increase hopefully will be fodder for another story. In this post, we'll take a closer look at a pair of ATM skimming devices that were found this month attached to a cash machine in Puerto Vallarta — a popular tourist destination on Mexico's Pacific coast.
On Saturday, July 18, 2015, municipal police in Puerto Vallara arrested a man who had just replaced the battery in a pair of skimming devices he or an associate had installed at an ATM in a busy spot of the town. This skimming kit targeted certain models of cash machines made by Korean ATM manufacturer Hyosung, and included a card skimming device as well as a hidden camera to record the victim's ATM card PIN.
Here's a look at the hidden camera installed over the compromised card reader. Would you have noticed anything amiss here?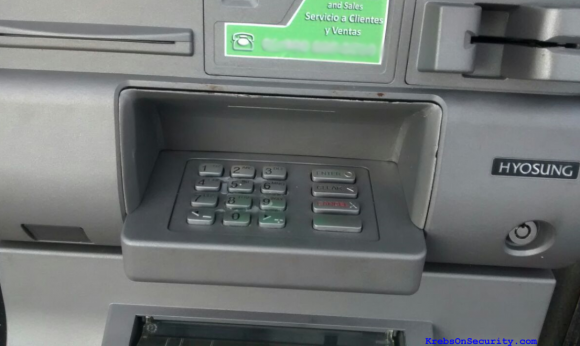 The tiny pinhole camera was hidden in a molded plastic fascia designed to fit over top of the area directly above the PIN pad. The only clue that something is wrong here is a gap of about one millimeter between the PIN capture device and the actual ATM. Check out the backside of the false front:
The left side of the false fascia (as seen from the front, installed) contains the battery units that power the video camera: