In a notable sign of the times, cybercrime has now surpassed all other forms of crime in the United Kingdom, the nation's National Crime Agency (NCA) warned in a new report. It remains unclear how closely the rest of the world tracks the U.K.'s experience, but the report reminds readers that the problem is likely far worse than the numbers suggest, noting that cybercrime is vastly under-reported by victims.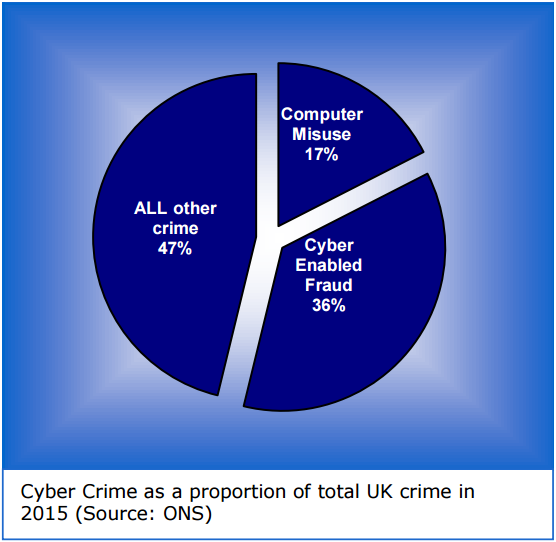 The NCA's Cyber Crime Assessment 2016, released July 7, 2016, highlights the need for stronger law enforcement and business partnership to fight cybercrime. According to the NCA, cybercrime emerged as the largest proportion of total crime in the U.K., with "cyber enabled fraud" making up 36 percent of all crime reported, and "computer misuse" accounting for 17 percent.
One explanation for the growth of cybercrime reports in the U.K. may be that the Brits are getting better at tracking it. The report notes that the U.K. Office of National Statistics only began including cybercrime for the first time last year in its annual Crime Survey for England and Wales.
"The ONS estimated that there were 2.46 million cyber incidents and 2.11 million victims of cyber crime in the U.K. in 2015," the report's authors wrote. "These figures highlight the clear shortfall in established reporting, with only 16,349 cyber dependent and approximately 700,000 cyber-enabled incidents reported to Action Fraud over the same period."
The report also focuses on the increasing sophistication of organized cybercrime gangs that develop and deploy targeted, complex malicious software — such as Dridex and Dyre, which are aimed at emptying consumer and business bank accounts in the U.K. and elsewhere.
Avivah Litan, a fraud analyst with Gartner Inc., said cyber fraudsters in the U.K. bring their best game when targeting U.K. banks, which generally require far more stringent customer-facing security measures than U.S. banks — including smart cards and one-time tokens.
"I'm definitely hearing more about advanced attacks on U.K. banks than in the U.S.," Litan said, adding that the anti-fraud measures put in place by U.K. banks have forced cybercriminals to focus more on social engineering U.K. retail and commercial banking customers. Continue reading →